Digital Customer Engagement – The "diCE-Model" of HS Fresenius and ORT
Digital Customer Engagement – The "diCE-Model" of HS Fresenius and ORT
Successful sales in times of Corona and beyond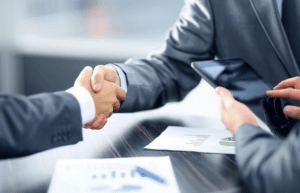 Sales in the age of Corona are undergoing major changes. What is the current status and what are the solutions?
Everything is no longer the way it was before COVID-19
Due to Corona, the entire world population was confronted with an unpredictable situation and had to completely change their daily lives on short notice. There are very few, if any, people in the world who have not been or are not affected in some way, either directly by the virus itself or by the various lockdowns and preventative measures put in place to control it. The impact of the virus extends far beyond the medical field and has a strong impact on the workplace as well. The way companies in all industries and regions conduct their business has had to change rapidly.
Corona-related changes in typical sales models
Also in the area of sales, the COVID 19 pandemic required an enormous digital transformation among B2B buyers and B2B sellers. During the lockdown, field sales visits or personal meetings with customers were hardly possible and only to a very limited extent, i.e. companies lost the personal proximity to their customers.
A recent study by McKinsey & Company shows that since last year, face-to-face interactions in traditional B2B sales have declined by 52%. In contrast, there has been a significant increase in digital interactions. Digital offerings such as video conferencing have increased by 41% and online chats by 23% (McKinsey & Company 2020).
Digital adoption records immense leaps
However, digital adoption among consumers and businesses is showing big leaps. Within about two months, this has jumped forward by five years.
Instead of feeling compelled to digitize in response to the widespread shutdowns in the early stages of Corona, B2B sales managers in distribution are also increasingly convinced that their business will go digital. Only about 20% of B2B buyers hope that processes will return to pre-pandemic "face-to-face," even in industries where traditional field service models have dominated. Especially in the area of ordering and reordering, interaction is shifting toward digital communication (McKinsey & Company 2020).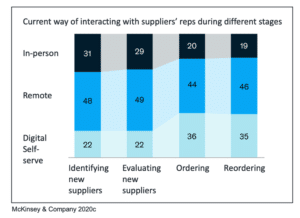 What initially started as a crisis reaction has now become the new normal. This will also have a significant long-term impact on how buyers and sellers conduct business in the future.
"For B2B sales, digital is the wave of the future" (McKinsey & Company 2020, n.p.).
Generational change of B2B buyers
But it's not just the global pandemic that is accelerating digital transformation; the generational shift in B2B buyers is also having a significant impact. A study by Google and Millward Brown Digital showed that almost half of B2B buyers today are Millennials (Think with Google 2015). This change is leading to new decision chains. For this generation, the Internet has long been established as a research source in sales. It is usually the first touchpoint in the customer journey. For this reason, it is becoming increasingly important to provide the information required by the buying center in real time and without hurdles.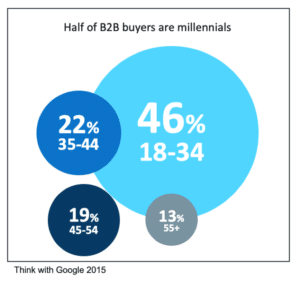 The solution approach
The sales journey must be completely redefined. In this process, new moments of truth are uncovered and sales approaches are changed to provide an increase in convenience and transparency in all customer interactions (Accenture 2020).
Cooperation between ORT Medienverbund and the E-Commerce Institute of HS Fresenius
In this context, the E-Commerce Institute of the Fresenius University of Applied Sciences, together with the agency group for sales and marketing ORT, is developing a new type of integrated approach to provide a suitable solution for companies in the face of radically changed framework conditions. This solution approach includes comprehensive digital support for all customer touchpoints within the framework of the customer journey and is referred to as the "diCE Model: Digital Customer Engagement Model". Essentially, the previous tried-and-tested forms of face-to-face communication within the framework of customer interaction are supplemented and expanded by appropriately integrated, digital modules and support approaches. In this way, a permanently relevant customer engagement is achieved that will also allow the greatest possible sales success in the future.
You want to learn more about this project and follow the progress and results of the cooperation?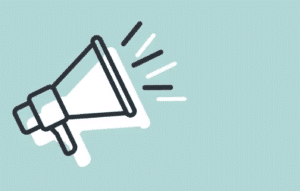 Visit us here and stay up to date! 
Quellen: 
Accenture, 2020 The New World of B2B Sales – React, Adapt, Rise, viewed 18 March 2021, from https://www.accenture.com/_acnmedia/PDF-126/Accenture-The-New-World-of-B2B-Sales-1.pdf.
McKinsey & Company, 2020, These eight charts show how COVID-19 has changed B2B sales forever – New analysis makes it clear: For B2B sales, digital is the wave of the future, viewed 06 March 2020, from https://www.mckinsey.com/%7E/media/McKinsey/Business%20Functions/Marketing%20and%20Sales/Our%20Insights/These%20eight%20charts%20show%20how%20COVID%2019%20has%20changed%20B2B%20sales%20forever/These-eight-charts-show-how-COVID-19-has-changed-B2B-sales-forever.pdf?shouldIndex=false%20%20%20%20%20%20Why? 
Think with Google, 2015, The Changing Face of B2B Marketing, viewed 14 March 2021, from https://www.thinkwithgoogle.com/consumer-insights/consumer-trends/the-changing-face-b2b-marketing/.