International E-Commerce, Shipping and the environment, in the context of Covid-19
International E-Commerce, Shipping and the environment, in the context of Covid-19
International E-Commerce in the context of Covid-19
An interview on international e-commerce, shipping and the environment as part of Covid-19.
The online world accelerated digital purchases and opened the doors to international markets, creating both positive and negative outcomes for the environment.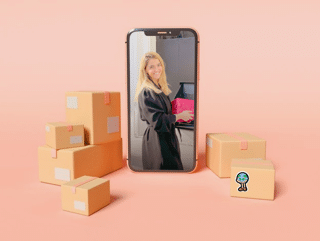 What are the main reasons for a skyrocketed international e-commerce?
Globally, the pandemic was a turning point for e-commerce as many consumers "went digital". As for the psychological side of panic buying, it is divided into three fundamental psychological needs." Autonomy (or the need to feel in control of your actions), relatedness (the need to feel that we are doing something to benefit our families), and competence (the need to feel like smart shoppers making the correct choice)". Moreover, people around the world who have access to the Internet have started getting acquainted with new digital skills as well as the platforms of E-commerce. Meanwhile, customers commenced comparing prices, items, and quality offered by national and international online shops. Except, the aforementioned psychological needs and acquired digital skills, offered advertisements of gigantic E-commerce companies are crucial. For instance, Amazon, Shopify, Taobao, Alibaba, eBay, Trendyol are growing even stronger and have become some of the most demanded E-commerce giants in the world. As for the exporter countries, the USA and China are leading the race in this regard. One of the main interesting facts is that Jack Ma Yun, a founder of Alibaba Group and Taobao, has purchased the leading e-commerce platform Trendyol in Turkey and as a result, Turkey has started becoming a demanded exporter country in various states. The main reasons for achieving the strong growth of e-commerce giants are the variety of items offered, the quality and the affordable price, as well as using AI and data. These companies have hired many high-qualified employees in Research and Development (R&D), IT, Marketing, and the business analytics departments. Consequently, growing E-commerce through utilizing R&D departments has significant importance in providing a great customer experience through offering to target audiences' relevant items at an affordable price and via appropriate communication channels, delivering the parcels quickly while informing about shipping processes. 
'Triangle' of shipping to developing countries?
In e-commerce, fast, reliable, and transparent transportation service is the key to customer satisfaction and future orders. One interesting fact can be traced to the difference in shipping practices in developed and developing countries. For instance, while purchasing an item (B2C) online through Amazon from the USA to Germany, fast shipping is provided and the flow of shipping is direct. However, when a person from Georgia buys the same item from Amazon USA, the parcel has to follow a "triangle" path and involves a third party-private shipping company that provides air-cargo services from the USA to Georgia. Otherwise the parcel delivery takes more than three months or never comes. Consequently, in developing countries, such as Georgia, Azerbaijan, Moldova, in order to receive fast shipping, people are buying on Amazon the desired product and indicate the warehouse address of the private shipping company that has a warehouse in the USA and cooperates with a company in Georgia. Hence, Amazon sends the item to the USA warehouse, which then transports the parcel to Georgia to the buyer and for that buyer pays increased shipping costs. 
What kind of consequence has shipping on the environment, especially in developing countries?
As a result of skyrocketed worldwide E-commerce, the use of cardboard packaging and polyethylene bags has grown cardinally, as such materials are used by online shops. According to the sellers' 
perspective, bigger cardboard packages are equal to better customer satisfaction, but in reality, this is not true, since buyers pay a big amount of money in international shipping. 
Moreover, e-commerce affects the environment and the waste management system, especially in developing countries, as international trade means more packaging to the shipping receiver's country which may lack an adequate waste management system. Not only more packaging and polyethylene bags create damage to the environment, but the production of new items and transport have a huge negative outcome. Globally, transportation accounts for 14% of the whole greenhouse gas emissions of the economic sector in 2020. For instance, the world's largest CO2 emitter China comprises the leading country of fossil fuels combustion and industrial processes. 
As a result, E-commerce has significantly increased CO2 emissions due to transportation and over packaging that affected waste management. This could provoke serious consequences for a country like Georgia, without waste management technologies and emergency policies. Consequently, countries with a linear economy are in a worse situation due to the gathered mountains of waste in landfills and produced more greenhouse gas emissions. 
Much freight transport is carried by sea, which comprises the least carbon-intensive mode of shipping. Here arises the question of what we can do about it to tackle the waste mountains in landfills as well as climate change and global warming. The solution lays in transforming every country's linear economy into a Circular one, pushing more renewable energy, innovative technologies, less polluting fuels, eco-friendly means of shipping that can decrease the CO2 emissions. The 3R concept of Reuse, Reduce and Recycle should be implemented in the packaging industry in order to fulfill e-commerce practices. As for the eco-friendly transportation in E-commerce, one of the best case is Deutsche Lufthansa AG that under corporate responsibility culture made a historical achievement in the International shipping industry via kick-starting the CO2 neutral freight flights through using Sustainable Aviation Fuel (SAF) that can be used in aircraft without any problems and comprises an alternative to fossil kerosene. 
If you want to read more about these topics, feel free to click here. Find all other info about the author on her Linkedin page.