Virtually walk through Dusseldorf for shopping with MYUNA
Virtually walk through Dusseldorf for shopping with MYUNA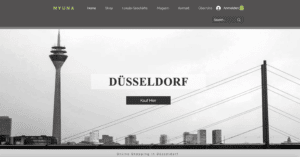 Image source: MYUNA
MYUNA is a Düsseldorf-based startup founded by two students Antonia Fiorentina Terriuolo and Lea- Sophie Faß combines the desire for sustainable and regional shopping with an innovative digital experience to create an online version of Düsseldorf. While still in college, the idea to create a regional platform for local retail was born and put into action in 2021. The online store has been online since February 2022 and shows what Düsseldorf has to offer and that you don't have to sacrifice anything when shopping locally. The ever-increasing online trade, as well as the corona pandemic that occurred in 2020, leads to an increased extinction of the city centers and MYUNA wants to counteract this!
On the website, customers have access to fashion from many different local stores with a wide variety of styles. With a few mouse clicks, it is possible to virtually walk through Düsseldorf, explore the offer, and make great discoveries in the stores. MYUNA's mission is to provide a unique online shopping experience, supporting local businesses and thus strengthening the personal relationship between customers and the stores, creating a new community. Through the exclusive regionality of the delivery radius of a maximum of 15 kilometers outside the Düsseldorf city limits, 360-degree images, videos, and personalized store profiles, MYUNA makes it possible to get to know the stores as well as possible. MYUNA helps stores position themselves in the world of e-commerce and strengthen their sales. Through the online store, sales are expanded, additional marketing is done through social media channels, and the customer base is increased. MYUNA's magazine can be browsed to learn more about the company and its customers.
MYUNA is happy about visits to www.myuna.de and is always available for exchange at contactinfo@myuna.de or on Instagram @myuna_de!