The Influence of Digital Transformation on Change Management – A Critical Analysis of Recent Concepts within the Consulting Industry 2/2
The Influence of Digital Transformation on Change Management – A Critical Analysis of Recent Concepts within the Consulting Industry 2/2
Welcome to our series of articles about current theses of our students!
The alumna Melissa Adejolu has written an outstanding master's thesis on "The Influence of Digital Transformation on Change Management – A Critical Analysis of Current Concepts in the Consulting Industry" as part of her Digital Management studies at the Fresenius University of Applied Sciences in Cologne. The summary is presented below. Read the first part here!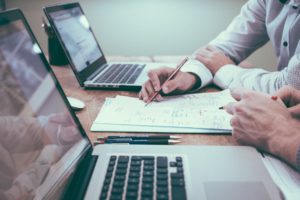 Pioneers pursue an explorative way of thinking
Furthermore, the way of thinking is changing from a waterfall approach to an agile way of thinking. Theories such as agile sprints and scrum methods have become an integral part of today's working world. Furthermore, the overall culture is changing to a more flexible way of thinking. Pioneers of digital transformation are pursuing an explorative way of thinking that encourages people to make mistakes, fail quickly and adapt when necessary.
Change management models as a guide
Last but not least, the necessity of a change from a model approach to modular factors is evident. Traditional giants often lag behind in the digital transformation. They have complex structures and face individual challenges. Against this background, it is clear that change management models should be seen more as a guide or checklist rather than a step-by-step guide.
The 12 "Digital Change Management Factors
Qualitative research shows that the human factor must continue to be at the center of change. It is also essential to promote new ways of thinking for the digital transformation. Moreover, the expert interviews show that theoretical models are often not applied in practice because they do not take into account the complexity and individuality of each change. The 12 "Digital Change Management Factors" that have been developed are becoming much more important. These should be used in a modular fashion to individually adapt each change management approach.
involve employees
make change a personal experience
reduce hierarchy and create a space for cooperation
be open and transparent
implement feedback
building community and common goals
making progress and milestones visible
shaping a digital culture
create digital acceptance
learning and enabling innovation
creating sustainable change
use digital tools
Customers in the German consulting industry expect complete packages
With regard to the German consulting market, it can be said that change management accounts for only 3.1% of the total consulting market, while other categories such as project management have a much higher share of 13.4%. According to the literature, the current trend is that customers expect a complete package. So, when they receive support for digital transformation, they assume that they will receive everything in one package, without viewing change management as a silo discipline.
Change Management is no longer a silo discipline
This trend also reflects the results of the expert interviews. All experts work on change projects, but only two of them are change managers. Change management in the consulting industry today is no longer a silo discipline that is only carried out by trained change managers. It is therefore evident that there is little demand for traditional change management consulting with regard to digital transformation.
Summarized and edited by Louisa Roszinski