The Online Focus Conference Marketing has started!
The Online Focus Conference Marketing has started!
The leading virtual B2B conference on the subject of ONLINE MARKETING keeps Marketeers well informed in November 2020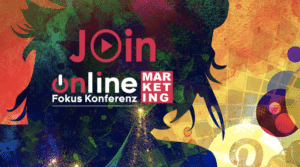 The Online Focus Conference Marketing started at the beginning of the week! Experience until Friday, November 27, 2020 trend-setting topics, presentations at the highest level and a lively exchange with the speakers and other participants. The renowned speakers will provide you with practical solutions to problems concerning the burning issues in marketing and communication.
This time the focus will be on:
Monday: Trends & Strategy
Tuesday: Digital Marketing
Wednesday: Content Management / PIM / DAM
Thursday: Content Marketing / Social Media / SEO
Friday: E-Commerce
This Friday, November 27th, Prof. Dr. Richard Geibel & Robin Kracht will be participating!
The two experts from the E-Commerce Institute Cologne will share exciting insights on the topic: "Progressive Web Apps – Gamechanger or Hype?"
What developments are emerging in online commerce? Which technologies and sales channels will be relevant in the coming years? What role does omnichannel marketing play and how can reach be increased and transaction costs reduced? What role does content play and what should it look like?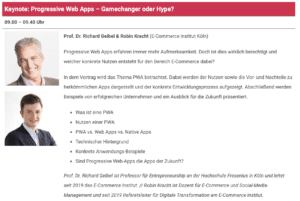 Register now for the entire online conference and attend any number of presentations free of charge. You can dial in to specific presentations with the same link or join the entire conference. Click here to register!
Source: https://online-fokus-konferenz.com/marketing/