One city, one quiz
One city, one quiz
Robin Kracht and Christian Paland developed the app KölnDuell together with a friend during their studies at the Fresenius University of Applied Sciences. The aim: to convey knowledge about the cathedral city in a playful way.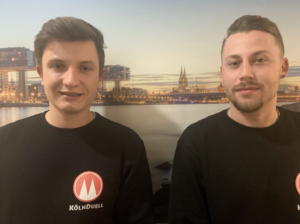 What is actually a Halver Hahn? What happens when the rooster is cooing? And who is Hennes? For many non-colonists, these questions might not be easy to answer. Robin Kracht also encountered many new things when he moved to the cathedral city in 2015 for his studies at the Fresenius University of Applied Sciences. The local traditions, customs and history interested him. "That's why I looked around for a platform, an app or something similar to find city-related knowledge from different areas in one place," explains the alumnus. But he did not find what he was looking for. That's how the idea for KölnDuell came about: an app with which users can quiz themselves on topics such as the Cologne language, carnival, history, architecture or Cologne celebrities.
His favourite question is "How many years did it take to build Cologne Cathedral", says Robin Kracht. Why? "Because it is unique to complete such a project only after more than 600 years. This fact makes you realize how special our cathedral is.
Persistence and experts are needed
Robin Kracht studied in the Bachelor Business Administration and then completed the Master Digital Management (M.A.). "This definitely strengthened my affinity for the digital industry," he explains. The studies also helped him to further develop the app that he started together with programmer Oliver Sonntag. "We were able to carry out various projects at the university using the app. For example, it was possible to create a professional business and financial plan or to work out a market entry strategy and an expansion strategy".
During this time, Christian Paland, who also studied at the Fresenius University of Applied Sciences, also joined us. Since graduating last summer, the alumni have been devoting themselves entirely to their start-up. The quiz app went live shortly afterwards.
The journey to this point required a lot of stamina, reports Christian Paland: "We had to acquire technical know-how, for example. To do this, we particularly sought the exchange with experts. Our lecturers were a great support in this process". Prof. Dr. Richard Geibel, Dean of Studies Digital Management (M.A.) and start-up expert, was enthusiastic about the idea from the very beginning: "The talented team of KölnDuell systematically learned the necessary methods for a successful start-up during their studies and took part in an excursion to Silicon Valley to gain practical insights into the world of start-ups, which now directly help them in their concrete implementation".
Flexibility, freedom of decision and personal responsibility
In developing KölnDuell, the alumni always had the goal of creating a professional perspective. "The project should become profitable," says Christian Paland openly. "Therefore, for example, we developed a way for local companies to advertise via the app."
The founders see their future very clearly in the start-up, says Robin Kracht: "I like the flexibility, freedom of choice and personal responsibility that I currently have in my professional life. And we still have a lot of plans: to expand our team, develop the app for other cities and implement new game modes and functions.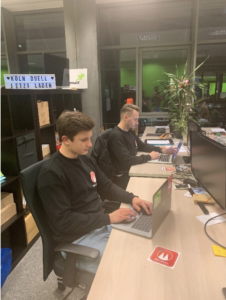 The two alumni in their office at the Cologne Start-up Inkubator Startplatz.
Further articles about KölnDuell are available at
https://www.express.de/koeln/neue-app–koeln-duell–hier-gibt-es-lektionen-in-der-koelschen-lebensart-32288854
https://www.hs-fresenius.de/fresezoom/eine-stadt-ein-quiz/