AI bootcamp by Startplatz Cologne
AI bootcamp by Startplatz Cologne
The gap between AI experts and beginners will never be smaller than today.
The AI Bootcamp at the STARTPLATZ AI HUB extends over a period of two days and focuses on imparting theoretical foundations as well as practical insights into the application of generative AI. The main goal is to prepare participants optimally for the development of job-related AI applications and their own business models.
Two different locations will host the AI Bootcamp in October: The first session starts on October 24th in Cologne, followed by the event in Düsseldorf on October 26th, 2023.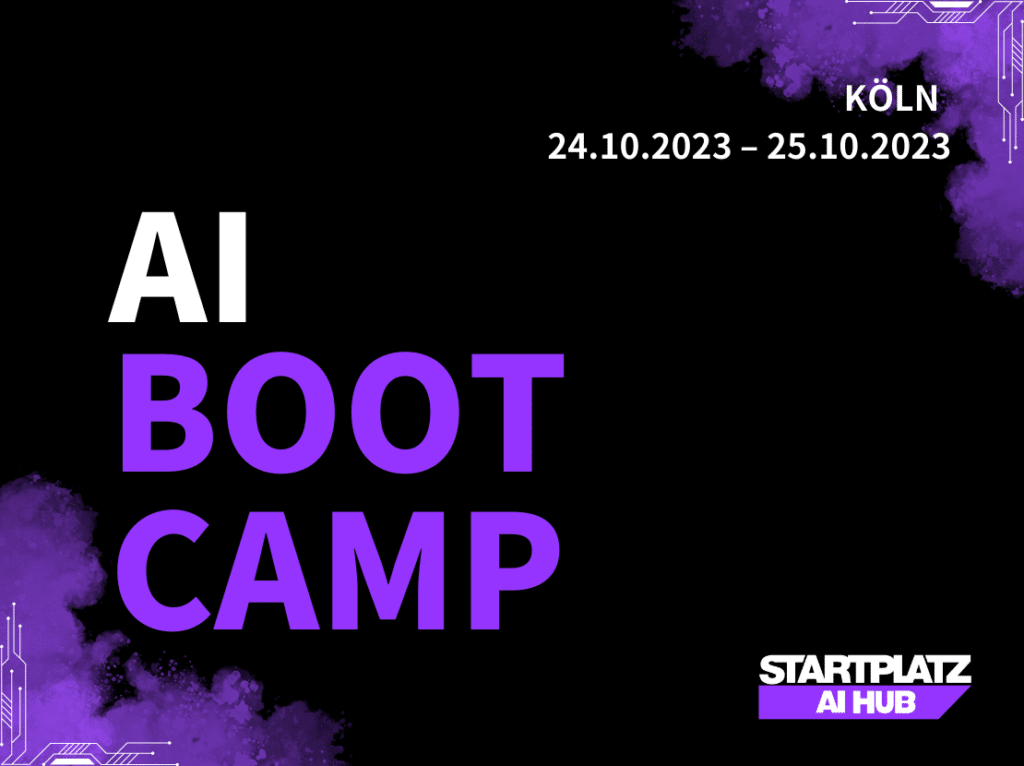 Target Groups:
Due to the diverse application areas of generative AI, the AI Bootcamp appeals to a broad professional audience. This wide range of application fields promises a high potential for insights, the exchange of ideas, and the creation of synergies.
The AI Bootcamp offers future entrepreneurs an accelerated path to explore the possibilities of AI for new business models. Here, they can learn which tools are valuable for developing their AI-based business idea, discover available automation options, and stay informed about the latest innovations.
Entrepreneurs and Decision-Makers:
The AI Bootcamp provides a time-efficient opportunity for entrepreneurs and decision-makers, regardless of their industry or company size, to gain a quick overview of the current state of generative AI development. They can identify potential cost savings and growth opportunities, assess the risk of disruptions for their own company, and develop their own integration solutions.
Corporate Representatives:
The AI Bootcamp offers corporate representatives the chance to prepare for the future of the workforce. They gain cross-industry insights into how generative AI can be used to automate, accelerate, and simplify corporate processes. Additionally, they can find inspiration for innovative corporate solutions and expand their basic knowledge of generative AI.
Start-up employees have the opportunity to explore how generative AI could transform their business model at the AI Bootcamp. They can learn how to optimize their business activities and gain a competitive edge.
Self-employed individuals can discover industry-specific and tailored solutions to optimize their work processes, reduce their workload, and boost their creativity through generative AI, thanks to the AI Bootcamp's curriculum.
Details:
On-Site Participation
Daily attendance.
Lectures & Workshops
Delivered by experts and industry insiders.
Introduction & Live Demos of AI Tools
Practical hands-on experience during sessions.
Participation Certificate
Attendees receive a certificate.
Networking Opportunities
Connect with peers and experts.
Content:
Prompt Engineering
Automation
Chat with your own Data
Participation options and prices:
Participation in the AI Bootcamp can be funded through individual or corporate contributions, as well as sponsorship.
The cost of attending the two-day AI Bootcamp is €1,000 per person.
Members of STARTPLATZ and startups are eligible for special rates.
Students, teachers, or students can apply for scholarships for free participation.
Volunteers can support the event for one day and, in return, attend for free.
Benefits:
Up-to-date expertise
Practical application experience
Networking opportunities
Direct access to experts and industry insiders
Free access to AI tools and API usage
Access to STARTPLATZ AI HUB infrastructure and resources
Option for future entrepreneurial guidance