A new episode of the imPULS Forum Antalis Verpackungen
A new episode of the imPULS Forum Antalis Verpackungen
People's shopping behavior has changed significantly in recent years. The mail-order business is booming.
And with it, the challenges for companies are growing. Shipping speed, parcel volumes, CO2 emissions, sustainability – issues that are becoming increasingly important. That is why these problems should be considered among high-quality experts in the area of e-commerce.
The topic of "e-commerce and opportunities as well as challenges" for the social responsibility industry is highly topical and an important area of research at the E-Commerce Institute Cologne. That is why we would happy to share with you the episode of the imPULS Forum Antalis Verpackungen. The guests discuss where the trend is heading and what innovative ideas are available to meet these new challenges.
In this tutorial, you will find answers to questions such as "Is the opinion correct that e-commerce is a driver of rising Co2 emissions and growing mountains of waste?" Or "What ethical and sustainable aspects are there to consider in e-commerce?". Moreover, this discussion includes the area of "social commerce", which involves on the one hand, the convergence of e-commerce functionality in the area of social media (Instagram, meta, TikTok) and, on the other, the integration of social media functions in the area of e-commerce (e.g., amazon Life shopping).
Important to mention, a significant part of this forum is taken by the head of the scientific "E-Commerce Institute Cologne" Dr. Richard C. Geibel. This man is a professor of business administration, the founder of the "Digital Management" degree program, and an e-commerce expert. Since 2012, he has been head of the scientific e-commerce institute in Cologne and thus the source of research in this field. There, companies and scientists work together on the question of what the future of e-commerce might look like.
Click on the link to dive into MASTERING PARCEL VOLUMES, GROWTH, AND SOCIAL RESPONSIBILITY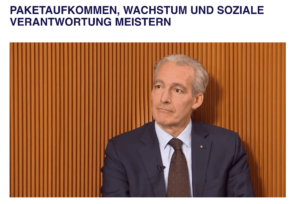 If you are interested in this subject, we are glad to announce Live Talks which will take a place in the second part of February 2023. The topic will be e-commerce and the challenges and opportunities/potentials in this area, especially about packaging, Dr. Richard C. Geibel also will take a part in this discussion.
Follow our news and announcements and don't miss Live Talks!"