How web design affects your e-commerce website
How web design affects your e-commerce website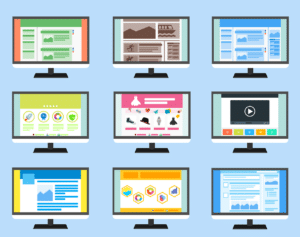 Image source: Pixabay
E-commerce is a relatively new business opportunity that allows companies to offer their products and services online. The e-commerce website is an essential part of this process and can be instrumental in influencing the success or failure of a company's online business.  An appealing web design is important to be visible on the Internet and to attract customers. Whether you are creating a new website or improving your existing website, a good web design is essential. Here are five reasons why a good web design is so important.
1. Creates a strong first impression
First impressions are crucial – both in the real world and online. When you visit a new website, you form an opinion about the company within seconds. This opinion is significantly influenced by the design of the website. If the design looks professional and is well organized, it leaves a positive impression. On the other hand, a poor design looks unprofessional and can scare off potential customers.
2. A good web design helps you stand out from the competition 
In almost every industry, there is a lot of competition. To stand out from the competition, it is important that your website is well-designed. A professional and appealing design can be crucial in driving visitors to your website and getting them to do business with you.
3. Brings more visitors to your website 
A professional design isn't just important for first impressions – it can also help drive more visitors to your website. Search engines rank websites based on several criteria, including website design. If your website is well-designed, it will show up higher in search results, which means more people will be able to find and visit it. To have a successful website, SEO and web design should be considered and included as equal.  There are some factors like search engine optimization (SEO), the content of the website, how it works on different devices, and the user experience that should be aligned.  SEO and web design have an important interplay and should not be underestimated.  While SEO ensures that the site is found faster by a potential customer, web design ensures that the customer stays on the site and ultimately
4. Good web design makes it easier for people to do business with you.
A well-designed website should allow users to do business with you easily and quickly. This usually means that visitors can easily find the information they are looking for and that they can easily get in touch with you – either by phone or email. If people find it difficult to do business with you or find information on your website, they may become frustrated and go elsewhere.
5. A good web design will help you to attract more customers and generate more sales.
Ultimately, the goal of any business is to gain more customers and generate more sales. A good web design can support both. On the one hand, a professional design can attract potential customers and make them want to do business with you. Web design is an important factor in a website's chances of success. An appealing, clear, and the functional website attracts more visitors and thus ensures more sales. There are many components that go into selling online. Commerce website designs can give your website a clean and professional look. This look can help your customers become familiar with your website and keep them coming back. If you want to generate more sales, it's a good idea to invest in a professionally designed website.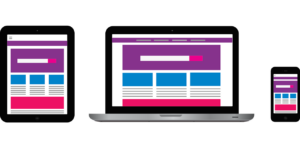 Image source: Pixabay
Commerce web design is a complex task. Therefore, the design of an e-commerce website needs to be carefully planned and thought through to ensure that it meets the needs and expectations of the customers. There are many aspects that need to be considered to run a successful online business. Here are some tips that can help you improve your e-commerce web design:
1. Focus on the customer!
"People ignore designs that ignore people" 
(Frank Chimero, designer, and illustrator)
Your e-commerce store should focus on the customer, not your business. Remember that customers are the ones who will buy and use the products. The website should convey a clear message so that visitors know what the company has to offer. Therefore, the web design should be tailored to the target audience and contain relevant content. So, your store should be designed to meet the needs of the customers. Make sure that the navigation is simple, and that the products are easy to find. Also, make sure that your website is optimized for mobile devices, as more and more people are shopping through their smartphones and tablets. The content of the website should also be relevant, up-to-date, and interesting. It should attract the readers' attention and encourage them to buy.
2. Keep it simple!
"In design, I strive for two things: Simplicity and clarity. Great design comes from those two things."
(Lindo Leader, graphic artist)
Avoid cluttering your website with too much information and elements. Keep navigation simple and structured so visitors can easily find what they're looking for. Also, use images and videos sparingly so as not to impact page load time. The layout of the website should be intuitive and the navigation simple and logical. Visitors should be able to easily navigate and quickly find the products or services they are looking for. One of the most important criteria in a good web design is usability. This means that the website should be designed to be as intuitive and easy to use as possible. A website should have a clear structure so that visitors can easily find their way around. The information should be arranged logically, and on each page, it should be clear where you are. The motto for web design is also: the less, the better!
3. Use search engine optimization!
To bring more customers to your website, you should use search engine optimization (SEO). The website should be search engine optimized to rank well in search results. The web design should therefore meet search engine requirements and contain relevant keywords. By optimizing your website for search engines, it will be displayed higher in the search results and thus be found more easily. So, in web design, make sure to use SEO-friendly URLs and meta tags and include relevant keywords in the text.
4. Create an appealing design!
An appealing web design is important to attract visitors' attention and make them spend more time on the site. So, when designing your website, make sure that the design is appealing and modern. Also, use colors and images sparingly to keep an overview.  The design of the website should be appealing and attract the attention of the visitors. At the same time, it should also be functional and convey a clear message.  However, it is also important here that the design does not appear cluttered and does not make it difficult for the viewer to concentrate on the content. The color choice also plays a role here – it should be harmonious and fit well with the corporate identity of the company. An unprofessional or boring design, on the other hand, may cause visitors to leave the site quickly.
5. Pay attention to the security of your website!
Since transactions are made in e-commerce, it is especially important that your website is secure. Therefore, make sure that all sensitive data is encrypted and use trusted payment providers like PayPal or Amazon Payments. An SSL certificate should also be installed so that customers' data can be transferred securely.
6. Pay attention to the functionality of your website!
The website should have all relevant functions so that visitors can use it without any problems. It should provide all the necessary features to offer customers the best shopping experience. For example, this includes a search function, shopping cart, payment, and delivery options.  A website should be responsive, load quickly and display flawlessly on all popular browsers and mobile devices. The web design should therefore be compatible with different device screen sizes and resolutions. The check-out process should also be as simple and straightforward as possible. Avoid including too many steps or asking for additional information that is not strictly necessary. The simpler the check-out process is, the more likely customers are to complete their purchase. With these tips, you can make sure your e-commerce store works well and you get good results.
Conclusion  
Web design is your website's calling card these days, and it can make the difference between a visitor who is interested in what you have to offer and one who is not.  So, investing in a modern web design is worth it.  To be successful on the Internet, it is important to pay attention to both an appealing and user-friendly web design, as well as a technically flawless implementation. A modern and appealing web design is crucial for the success of an online business. With a professional web design, you can increase your conversion rate and thus generate more sales.
To read the original article, click here.