#6 Our own podcast
#6 Our own podcast
Listen to the sixth podcast of the E-Commerce Institute here!
The latest episode of the E-Commerce Institute deals with the topic of sustainability in online commerce. What are the dark sides? And what is the criticism?
As a guest, we welcome Alumna Louisa Roszinski, who has written an outstanding bachelor thesis on "Sustainability in Online Retailing using Amazon as an Example" as part of her studies in Media and Communication Management at the Fresenius University of Applied Sciences in Cologne.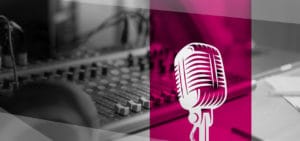 To gain further exciting insights into the global player Amazon and its sustainability strategy, you are welcome to read Louisa's already published articles from our series on theses. Click here for articles 1 and 2.

We hope you enjoy the sixth episode of our podcast "Lesson Learned".
If you enjoyed our Podcast Lesson Learned, we would be very happy to subscribe to the podcast.