Start-up Online Event of the Pioneer Lab at Fresenius University of Applied Sciences in May
Start-up Online Event of the Pioneer Lab at Fresenius University of Applied Sciences in May
The Pioneer Lab at Fresenius University of Applied Sciences

The university's Pioneer Lab supports all founders in all start-up phases at our university locations throughout Germany. From freelancers and start-ups to innovative and technology-based start-ups in all industries.
Events in May
There are 2 exciting online startup events coming up in the next few weeks. Be part of it!
1. Lunch & Learn

On May 11, the next online event "Lunch & Learn" will take place at lunchtime.
Lunch & Learn is an exciting online course offered by the Pioneer Lab of Fresenius University of Applied Sciences and AMD.
Here, all questions around the topic of founding are clarified and high-quality content on changing focal points is delivered.
During the lunch period from 12 – 12:30 p.m., experts from the industry provide practical knowledge, recommendations for action, clarify questions in a live chat and give constructive feedback within 30 minutes.
Participation is free of charge. Registration is via this Zoom link: www.bit.ly/LunchandLearn_CCE
On May 11, Elisabeth Neumann (Hessischer Gründerpreis), Sebastian Hargarten (KPMG) and Daniel Molis (KPMG) will speak on the topic of "Successful pitching – How can I convince?
The Experts:
Sebastian Hargarten and Daniel Molis from KPMG Germany prepare for a successful pitch with helpful tips.
Sebastian Hargarten is a partner in the Audit department at KPMG and Head of the Central Region of KPMG Venture Services. He looks after family businesses in particular and is also in constant contact with a large number of start-up companies. He has been a member of the initiative group of the Hessian Founders Award for several years.
Co-speaker of the event is Daniel Molis, Senior Manager in Financial Services Deal Advisory. He is part of the KPMG Venture Services team and advises investors, companies and start-ups in the context of new business models, cooperations and transactions. He is active in start-up initiatives such as the Hessian Founder Award.
Speaker Elisabeth Neumann from the Hessian Founders Award is concerned about the visibility of founders and networking with exciting partners. For many years, she has been the creator of the Hessian Founders' Prize, a project of KIZ Sinnova gemeinnützige Projektgesellschaft mbH, which she manages on behalf of the Hessian Ministry of Economics.
2. Pioneer Network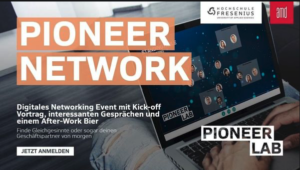 The next online networking event will take place on May 20!
Here, founders are brought back into conversation with each other and can network between the sites. Join the digital event Pioneer Network and exchange exciting ideas with other founders, get inspired by like-minded people and find your founder partner of tomorrow. After an exciting kick-off talk, there will be time for networking, good conversations and an after-work beer.
With the Wonder.me video networking tool, networking is just as easy as at a live event. You can decide when and with whom you want to have individual or group conversations. Simply drag your icon to the desired conversation partner and open a video conference directly.
It's that easy: Register for free at www.standingtable.de/pioneernetwork with the code PIONEERLAB, wait for the letter carrier with the beer delivery, switch on your laptop, enjoy a beer and let yourself be surprised.
Please note that a punctual beer delivery is only guaranteed if you register 7 days before the event.
For more information about Pioneer Lab events, click
here
!