Progressive Web Apps – Gamechanger or Hype?
Progressive Web Apps – Gamechanger or Hype?
What developments are emerging in online retailing? Which technologies and sales channels will be relevant in the coming years? What role does omnichannel marketing play and how can reach be increased and transaction costs reduced? What role does content play and what should it look like?
On Friday, November 27, 2020, the two experts from the E-Commerce Institute Cologne, Prof. Dr. Richard Geibel and Robin Kracht, were guests at the Online Fokus Conference Marketing. Here, the two shared exciting insights on the topic "Progressive Web Apps – Gamechanger or Hype?":
What is the definition of Progressive Web Apps (PWA)?

Why are PWAs needed now?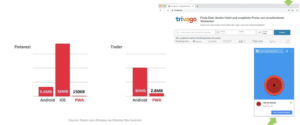 -> PWAs are memory efficient, cross-platform and can be used offline (event-based).
What are the positive features of PWA?
Development effort – device and browser independent (Responsive)
Computing time – server-side rendering (not on the client)
Offline – functionality
Fast – shorten loading times when calling / changing pages
Device functions usable – e.g. camera, share, payments, (push messages)
Updates – automatic
Linkable – via URL, directly from email
Installation – "Add to Home Screen", distribution without app store
Findability – Rewarded by Google à advantage regarding SEO
Privacy friendly – cookie banner (DSGVO) & avoidance of SDKs
PWAs combine both worlds: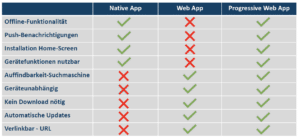 What are the limitations?
Requirements: HTTPS, content & design responsive, each subpage own URL
(Still) no complete integration of hardware (e.g. fingerprint)
Lack of external quality assurance (through app stores)
Low presence due to absence in app stores
If the app is not used, data is deleted in the background – icon remains
But at what point are Progressive Web Apps suitable for companies and are they really a game changer or just hype?
Look forward to the exciting video of the online appearance of the e-commerce experts on 29.12.20 and find out. 
ECI analyzes existing application and develops as well as programs PWAs. If you are interested, please feel free to write us an email or reach us by phone or mobile.