Key factors in e-commerce – new edition planned for this year
Key factors in e-commerce – new edition planned for this year
The esteemed work of our colleague Prof. Dr. Dominik Große Holtforth is being re-issued.
At the moment the new edition is still in process. The publication is planned for the end of this year.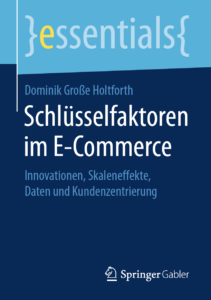 Preface of the 2016 edition
20 years after the start of the Internet age, the balance of power in the newly emerging digital markets seems clear: On the one hand, there are digital "pacemakers", including Google, Apple or the e-commerce market leader Amazon. These US companies are growing at record rates and have achieved a clear economic and technological dominance. Initial proceedings for restraints of competition have been initiated because smaller companies feel disadvantaged1 . On the other hand, hardly any European company has yet advanced to the league of "digital superpowers". In the Wall Street Journal list of "Unicorns", i.e. start-up companies valued at more than US $ 1 billion, the leading European company Spotify occupies only a mid-15th place2 . A list of the largest established internet companies also clearly shows that European companies lag behind3 . Measured by market capitalisation, the British fashion provider ASOS only ranks 20th in this ranking. Does this mean that the claims of digitalisation have already been staked out? Are US and large Chinese companies dividing up the "digital world" among themselves? This could be the case unless significantly more companies, industries and governments in Europe see digitization as an opportunity and a challenge. For many unsolved problems, digital technologies must be used to find solutions that improve the availability and processing of information. Especially in e-commerce, which is the main focus here, the process of digital transformation is by no means complete. Numerous opportunities arise from the development of the mobile Internet, the growing possibilities of data analysis and artificial intelligence. The ecological balance of e-commerce can also be improved by reducing returns and packaging material. European companies should also participate in these developments to a greater extent than at present. However, it is still possible to catch up with the world leaders in digital markets if the key success factors in digitisation are identified and consistently implemented. These success factors are applied in this essential to e-commerce and are summarized as key factors in a programmatic approach to the digital transformation in commerce. This essential is aimed at manufacturers and retailers who want to improve their competitive position in e-commerce with entrepreneurial drive. By implementing the key factors, these companies are given fundamental impulses for the realignment of business models, the design of growth processes and the achievement of sustainable earnings. But also for students of e-commerce, the essential strategic basics will be taught. This is because it goes beyond the listing of operational to-dos, the implementation of which would at best be a catch-up to the digital excellence of online leading companies. Rather, I am interested in identifying those factors that help digital technologies and e-commerce to have a disruptive effect.
My thanks go to my colleagues Prof. Dr. Heinz Walterscheid, Prof. Dr. Peter Bak and Prof. Dr. Richard Geibel, who have contributed to the development of this essential by providing good advice and engaging in discussions. My special thanks go to my wife Uta, who supported me not for the first time in busy periods.
Cologne, Germany
in September 2016
Prof. Dr. Dominik Große Holtforth