Cologne graduates give lessons in Cologne's way of life with the online game "Köln Duell
Cologne graduates give lessons in Cologne's way of life with the online game "Köln Duell
New App "Köln Duell" – Here you can find lessons in the Cologne way of life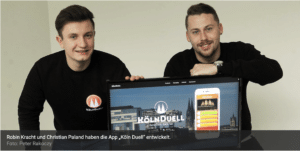 Cologne – Where is Karl-Berbuer-Platz? What is it about carnival? What is actually no question for seasoned Cologners is sometimes a problem for new Cologners. Like Robin Kracht (25) and Christian Paland (25), graduates of the course of studies digital management at the university Fresenius and programmer olive Sunday (24).
"We all three do not come from Cologne and did not understand, why Karneval is so popular and the people Kölsch and no other beer drink.
The three, which came from Paderborn and Aachen to the study to Cologne, did not understand the one or other Cologners at the beginning. Because of the dialect.
"Cologners are local patriots!"
Out of their irritation, the three graduates have now made a job and in return have delved deeply into the peculiarities of the Cologne way of life and history. Together they have developed an app called "Köln Duell", which contains more than 2300 questions on topics from the areas of history, culture, entertainment, gastronomy and carnival.
"It's the most Cologne app ever," says Kracht with a smile, "so it should work on the market. "The people of Cologne are local patriots, they are crazy about their city."
Anyone who plays the game can use the app to find an opponent and starts in the quiz at the lowest level – as "Düsseldorfer". The more questions you answer, the higher you climb in the game's ranking, all the way up to Cologne's president.
App so far only for iPhone users
Players can chat with the opponent via a message function. The game is free, but can currently only be used for the iPhone, "We are working on an Android version," says Kracht.
For two years the game developers have been tinkering with the app, questions had to be considered, some had to be discarded. The tasks should not be too easy and not too difficult.  "After all, it should be a game for everyone.
Their research led them to the lower chandelier hall and the historical forts. In addition, a start-up involves a lot of work – from accounting to business plans and marketing.
Soon perhaps also for other cities
In the meantime, they have moved from the Fresenius University of Applied Sciences to the neighboring Startplatz, a start-up center that is also located in Mediapark. If things go well, the three inventors are thinking about transferring the Cologne app to other cities – Berlin, Frankfurt, Hamburg or Munich would be considered.
Initial successes prove them right: the game has reached thousands of downloads. Mayor Henriette Recker is said to have played it, as did NRW's Minister of Economic Affairs Andreas Pinkwart. In the meantime, the young men are working with a number of companies in the region, which are giving away prizes for the game, such as tickets to the games of Fortuna Köln or the Cologne basketball team Rhein-Stars.
Click here for the original article