E-commerce and digital trends 2021 1/4
E-commerce and digital trends 2021 1/4
Top Trend: Digitalization
A digital boost from Corona? To what extent could the digital industry benefit from the pandemic? And what are the trends for 2021?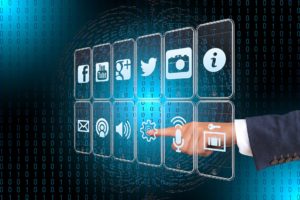 Just in time for the new year, software providers Adobe and Akeneo, together with their implementation partner TechDivision, took a look into the crystal ball and identified some of the most exciting topics and developments, which we naturally don't want to deprive you of.
Josef Willkommer, co-founder and CMO of TechDivision, has identified 11 upcoming trends. The first three of these trends are presented below. You can already look forward to the coming ones!
Generally speaking, it can be said in advance that the Corona pandemic has given digitization – if it wasn't already underway – another massive boost and that even industries and companies that didn't see the need for increased digitization last year are now rethinking and have either already launched corresponding initiatives or will do so in the near future.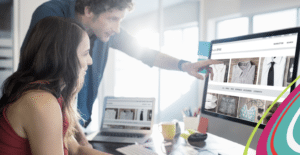 Trend number 1:
Digitization
SearchNode, a leading global provider of search solutions for web stores, recently published its annual report with e-commerce trends 20211. For this study, around 100 e-commerce decision-makers worldwide were surveyed on current and future trends in e-commerce and, moreover, on the impact of the Corona pandemic on their business.
Following the global lockdown in the spring, 86% of respondents indicated that their online sales had increased compared to pre-pandemic levels; 90% of respondents indicated that their online sales had increased during this time compared to pre-pandemic levels; 40% of respondents indicated that their online profit margin had increased in spring 2020 compared to pre-pandemic levels, while only 15% indicated that it had decreased. A very similar trend can be seen following the end of the global lockdown in the spring, with 40% reporting an increase and only 14% a decrease in online profit margins compared to pre-Corona. Accordingly, it is also not surprising that 78% of decision-makers in this study plan to increase e-commerce budgets in 2021.
It is also interesting to note here that 71% of the decision-makers surveyed are preparing for the future by taking the following measures:

Trend number 2:
E-commerce is becoming indispensable in the B2B environment
Amazon has found that around 73% of online shoppers are now so-called Millennials. Millennials, also known as Generation Y, are predominantly people born between 1981 and 1996. Sixty-eight percent of these shoppers would rather research products online (61% already use a mobile device to do so) than talk to a salesperson.
Even before Corona, it was becoming apparent that traditional B2B sales channels were no longer as popular as they had been in the past, and online was making massive inroads here as well. The Corona situation has given this trend another massive boost.
More than three-quarters of B2B buyers and sellers surveyed by McKinsey in spring 2020 said they now prefer digital services as well as remote approaches to face-to-face contact – a trend that has intensified since the Corona pandemic began. Security is, of course, an issue here. However, more and more buyers and sellers in the B2B environment are also finding that digitization makes it faster and also more convenient to request information, place orders or commission services. Only 20% of respondents said they hoped to be able to make a purchase in person again in the future, e.g., via the sales force. This is a comparatively small proportion when you consider that it includes industries where field service models have traditionally dominated, such as pharmaceuticals and medical products.
For example, according to research by McKinsey & Company, before the Corona pandemic began, 48% of B2B buyers said that self-services were more important than traditional sales interactions. Since the pandemic, that number has increased by 18%, with 66% of buyers saying they prefer self-services due to COVID-19.
While more B2B buyers are increasingly demanding e-commerce solutions, it's critical for brands to remember to keep a close eye on their target audience and environment and take the most customized approach possible here.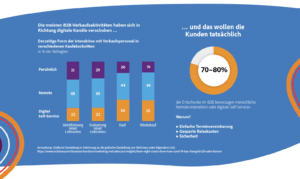 The most striking sign that e-commerce is here to stay, even in the B2B environment, is the increase in convenience that B2B buyers experience and usually come to appreciate quite quickly when making large new purchases and reorders online. In the past, the prevailing opinion was that e-commerce worked mainly for smaller/cheaper items as well as fast-moving parts. Today, this is far from being the case, if you think, for example, of the fact that Tesla has been very successfully selling cars in the high 5 or even 6-digit euro range online in the B2C sector for many years now.
What is remarkable and also groundbreaking here is that, according to research by McKinsey, 70 percent of B2B decision-makers now state that they would also make online purchases of more than $50,000 in the meantime. 27 percent even state here that they would make an online purchase even for more than $500,000.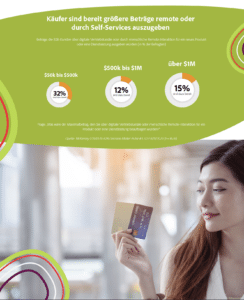 With the massive shift to digital sales channels as a result of the Corona pandemic, video and live chat have emerged as the predominant channels for interacting and closing sales with B2B customers, while in-person polling and sales calls and related sales activities have plummeted.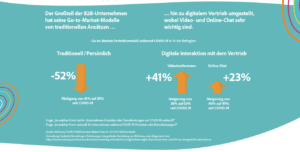 According to participants surveyed by McKinsey in spring 2020, these new purchasing patterns are highly likely to last. Nearly nine out of ten decision makers say that new sales and go-to-market practices will be highly significant in the coming year and possibly beyond. Another McKinsey study from the fall of 20203 , for which 3600 decision-makers from around the world were surveyed, once again provides additional insights that underscore the shift toward more and more B2B commerce and which arrives at the following findings, among others:
▶ E-commerce and digital approaches are likely to be the dominant elements of the B2B go-to-market model of the future when it comes to selling to both SMEs and large enterprises.
▶ It can be assumed that personal selling, as was often the case in the B2B environment before Corona, will no longer occur with the intensity it has in the past, as only 20-30% of B2 buyers want to make personal sales or purchasing calls.
▶ About 90% of B2B decision-makers assume that digital sales will endure in the long term. About 70% believe that the new model is just as effective or even more effective than face-to-face sales by sales representatives. Incidentally, this applies both to existing customers and to prospects or new customers.
▶ 95% of B2B buyers say they will make a purchase through digital channels and platforms in a self-service model, with the vast majority easily spending $50,000 or more online.
▶ Video conferencing is critical and preferred by ⅔ of all B2B buyers over the phone for a wide variety of situations. These include product demos, price negotiations, but also support issues.
Trend number 3:
Customer Experience is Key 
Another top trend, especially in B2B e-commerce in the coming year, is the need to provide your customers with the best possible shopping experience. An excellent customer and user experience is essential, as 86% of buyers are willing to pay more for a good experience. Moreover, shoppers are willing to pay an average of 13% more for additional features as well as add-on items if the customer experience is correspondingly good.
Current studies by various analysts show that the topic of customer experience will be the most important brand differentiator in the future and thus now assumes greater importance than price or product quality. In this respect, companies should definitely put this topic on the agenda in the coming year – if they haven't already done so anyway.
Offer your customers a great shopping experience and they will buy more, be more loyal and share their positive experiences with friends. After all, that's what every business strives for. Companies advertise the latest technology or fancy design, but they have either forgotten or not focused enough on the most important component, which is the customer experience. In the end, it's always about the customer and the technology as well as the design should always be about making the customer happy. But what makes a really good customer experience? Speed, convenience, consistency, friendliness, and one big staple: a certain human element – that is, creating real connections with customers by making technology more "human" and giving employees what they need to create better customer experiences.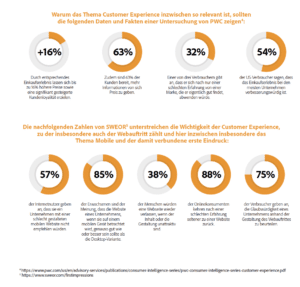 Source of the text excerpt: https://www.techdivision.com/lp/e-commerce-und-digital-trends-2021