Studying Digital Management (M. A.) at the Hochschule Fresenius
Studying Digital Management (M. A.) at the Hochschule Fresenius
THE DIGITAL MANAGEMENT (M.A.) MASTER'S PROGRAMME AT THE HS FRESENIUS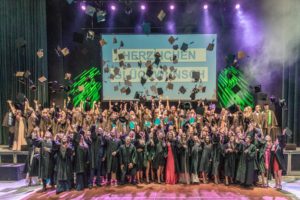 With the English-language degree program in Digital Management (M.A.), we train you to become an expert in digital change processes within companies and organizations. After all, well-trained specialists who can take on this elementary management task are increasingly in demand in all sectors of the economy.
Digitalisation is here, so why wait? 
YOUR DEAN OF STUDIES PROF. DR. RICHARD C. GEIBEL WELCOMES YOU!
The digital revolution is comparable to the introduction of electricity: we are now on the threshold of a technological revolution that will fundamentally change the way we live, work and communicate together. This digital transformation is more challenging than anything that humanity has ever experienced in terms of SPEED (no longer linear), WIDTH (disruption of any industry in any country) and IMPACT (depth and breadth of change in management and industry). "When the wind of change blows, some build walls and others build windmills" (digitally modified Chinese proverb) Go digital – this is your chance!
Take a look at the brochure or visit our website for more information.
You are also welcome to arrange an immediate consultation here.
If you have any further questions, please contact the student advisory service. You can reach them by phone at +49 221 973199-35 or by e-mail at eulberg@hs-fresenius.de.
You can also contact the Dean of Studies, Prof. Richard C. Geibel, directly. You can reach him by phone at +49 221 973 199 722 or by e-mail to geibel@hs-fresenius.de.