Look into the book: Key factors in e-commerce
Look into the book: Key factors in e-commerce
Insights into the first chapter!
Finally, the time has come! The 2nd edition of the successful "Key Factors in E-Commerce" is now available. Here you can get a taste of what's to come and gain some initial insights.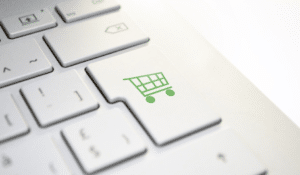 Prof. Dr. Richard C. Geibel and Robin Kracht from the E-Commerce Institute have reviewed and updated the work together. Secure your copy now here as an eBook or softcover!
1. Introduction
Innovations, economies of scale, data orientation and customer centricity
The development of e-commerce continues to be dynamic in the digital transformation. As a digitized channel for supplying consumers and companies with goods and services, the share of e-commerce in the revenues of the most important industries continues to increase. More and more customers are opting for the Internet when they want to find out about products and buy them. Alongside bricks-and-mortar retailing and direct sales, e-commerce has become the decisive sales channel for many companies and sectors.
However, it would be short-sighted to view e-commerce as a mere supplement to existing sales channels. Rather, e-commerce is increasingly becoming a "preference machine" that helps companies to better understand customer problems and wishes and to offer solutions. The decisive factor for this qualitative leap is entrepreneurial creativity, which has significantly increased the scope, speed and intensity of information processing with the help of digital technologies. The digital transformation, in the context of which e-commerce is developing, is a process in which software and hardware solutions are penetrating more and more sectors and areas of the economy and life.
This process is driven predominantly by comparatively young companies that have used technological innovations since the mid-1990s to develop better solutions to customer problems and implement them in more efficient processes. The successful companies of the digital transformations follow a specific pattern in developing business models, building processes and generating sometimes rapid, unprecedented growth. This pattern and recipe for success is the central content of this essential.
Due to the programmatic nature of the digital pioneers' approach, the focus is on four key success factors. Their use has been observed in many market-leading companies as the cause of above-average market growth. The four factors are:
Digital innovations,
Economies of Scale,
Data Driven Marketing and
Customer Centricity.
If the digital transformation is viewed as an open-ended evolutionary process, it should be clear that with sufficient entrepreneurial drive, new successful companies and business models can also emerge today and in the future. The four success factors are likely to continue to make a central contribution to this. As long as digital technology continues to evolve, new potential for entrepreneurs will emerge.
This essential therefore translates the four success factors into recommendations for action for the design of e-commerce business models in which they are important as key factors. The recommendations are aimed at all companies that are increasingly or completely organizing their sales, marketing and customer relationship management on digital platforms. The model and the recommendations derived from it are thus suitable for both pure online retailers and multichannel retailers and ultimately also for manufacturers and wholesalers to support the successful digitization of business models. Finally, it should also help students to prepare for a job in e-commerce.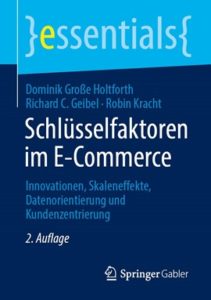 Look forward to further exciting insights and secure a copy as eBook or softcover now here!