E-Commerce in China: Typical Mistakes and Solutions for European Brands
E-Commerce in China: Typical Mistakes and Solutions for European Brands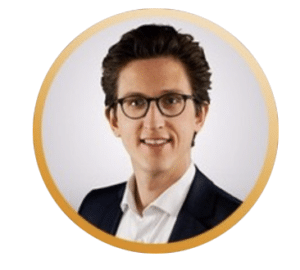 Part 1 of Jan Dominik Gunkels article about E-Commerce in China
How can brands seize the opportunity presented by 610 million active online shoppers? [1] E-commerce in China differs vastly from Western standards. Business is conducted on platforms like Tmall, Taobao and JD. Amazon, Paypal and brand-operated online shops generally do not work. Neither do most western learnings and strategies apply. Yet, brands like Cosnova have figured it out. Read on to learn:
What are the opportunities in the Chinese e-commerce market in detail?
What are the top 3 mistakes by brands?
How did Cosnova successfully seize the market and how can you do it too?

Table of Contents:
A Great Market for European Brands, Especially for Certain Industries
The Chinese E-Commerce Challenge
#1 Mistake the Marketplace Domination over Brand Webshops
#2 Fail to See Social Media as the Commerce Ecosystem
#3 Insufficient Respect for the Pride and Culture of the Chinese People
Case Study: Cosnova's Cross-Border E-Commerce in China
Your Next Steps to Enter the Chinese E-Commerce Market
A Great Market for European Brands, Especially for Certain Industries
Little did Volkswagen know, when it entered the Chinese market in 1978, it was the ticket to become one of the world's largest automotive brands 40 years later. [2][3] Others failed in the face of the challenges offered by the great opportunity in the east. L'Oreal's mass-market cosmetics brand Garnier had to withdraw. [4] Revlon followed suit. [5] Even the global e-commerce behemoth, Amazon, had to call it quits. [6]
Depending on the definition, China has between 200 and 400 million middle class citizens with purchasing power similar to Europeans. [7][8] With China still being the strongest growing major economy in the world, Dr. Ulrich Stephan, Chief Investment Strategist of Deutsche Bank expects consumption spending of private households to double in the coming decade. This would make China a 13 trillion US dollar market. That's about the size of the USA. [9]
While in the past machine builders and industrial technology providers have benefited from growth in China, more and more consumer products are being sought by China's rising middle class. Automotive was one of the first, but now we see many categories booming: OTC Pharmaceutical Products, Sportswear/Sneakers, Beauty & Cosmetics, Health Products. [10] So, why did Garnier and Revlon fail? Why did Amazon?
Chinese are craving for international products. With the current trade tensions between the US and China limiting US business activities, this presents a particular opportunity for European brands. Especially "Made in Germany" is sought after. [11]
"There is a sometimes surprisingly strong positive bias towards German quality… that is still quite entrenched in the Chinese consumer mindset," — Kerstin Kaehler, General Manager of the German Enterprise Centre [12]
Likewise there is strong demand for French and Italian luxury items, anyone who has ever been to a Louis Vuitton store pre-COVID will know.
Again, why did Garnier, Revlon and Amazon fail?
The Chinese E-Commerce Challenge
The online share of retail in China is currently at 42%. This already yields a $2.090 trillion ecommerce market. It is still growing at a staggering 18.5% annually.[13][5]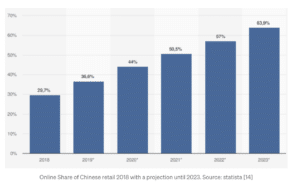 Take a huge market, demand for foreign products and the inclination towards e-commerce and you get an immense opportunity to market your products. Especially for anyone without an established retail network this makes online first sound like a viable strategy. But apparently a difficult one.
E-Commerce in China has developed in its own right. This in part due to the language. Especially the spelling barrier naturally limits exchange between China and the rest of the world. Furthermore, the great firewall essentially separates China's Internet from the Internet elsewhere. As a result e-commerce in China differs vastly from what Westerners take for granted.
Yet the Chinese e-commerce market is not some sideshow. It accounts for 53% of the global e-commerce market. [15] Does it account for 53% of your online business already?
Before you start to set things in motion for online first, a quick warning: The lack of an established retail network might translate into somewhat low brand recognition and thus a more difficult start than e-commerce launches in your home market. On the contrary, running a globally well-known brand or operating in an industry, where Chinese people do not trust local manufacturerers, might be a benefit. So it is worth analyzing whether it is the right time for an e-commerce market entry. And the good news is that there is a lot of market data available for Chinese e-commerce platforms — much more than we are accustomed to in western e-commerce. There are answers. You can buy them.
#1 Mistake the Marketplace Domination over Brand Webshops
In Western markets the faith we put into a brand translates to trust into its webshop. Consumers happily buy directly. In China to the contrary, consumers trust almost exclusively well-known local marketplaces. The market is dominated by Tmall, Taobao and JD.com, and some new rising stars such as independent Pinduoduo (PDD). The first two are owned by Alibaba Group and JD is partly owned by Tencent. This trend is even fortifying, with Tmall for instance showing an increase of 23% in gross merchandize value for 2020. [16] A presence on these marketplaces is a necessity, having a brand-owned webshop is somewhere between nice-to-have and irrelevant.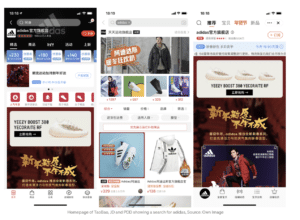 Building and operating a presence on these marketplaces, which are vastly different from Amazon or other Western platforms, requires some expertise. To get a general idea, what Chinese marketplaces look like, have a look at my article here: "AliExpress: Is Amazon under Siege in Europe". While this article presents AliExpress, a platform created by Alibaba to target international consumers, it certainly gives an idea what to expect when looking at pure Chinese platforms. This is nothing that can be done without support.
While adding some complexity, the marketplaces also provide a number of benefits to brands and sellers. There is neither a need to locally host a website in China that needs to be registered with the authorities. Nor is paying for a content distribution network (CDN) that relays a foreign website into China necessary. There is no need to set up Chinese payment tools like AliPay or WeChat Pay yourself as credit cards or Paypal are not used. Finally, a definite plus is the low cost: Sellers mostly pay between 1% and 6% of sales, which is considerable less than what Amazon asks for.
#2 Fail to See Social Media as the Commerce Ecosystem
Not only the point of sale is different, the marketplaces have built entire ecosystems around them. Social factors play a fundemental role in Chinese commerce. Social media platforms like WeChat, Little Red Book and Weibo integrate considerably more into the purchasing process than WhatsApp, Instagram or Twitter.
While for the purpose of explanation marketing professionals often compare each Chinese social media platform to a western counterpart, this comparison falls short. Take any of the Chinese platforms and you will find they are more complex by an order of magnitude. While WhatsApp is still mostly a messaging tool, WeChat is a social media storyline, mobile payment solution and third-party application platform. It offers booking tools for restaurants and flights. It allows to repay credit cards, pay utility bills, top up mobile phones or even buy wealth management products. It is the gateway to numerous public services, like visa applications, driving records, and medical services. It also contains a publication platform used by authors and traditional media, similar to medium.com. And this is by far no complete inventory. [17][18] Therefore, it is important to take note that the Chinese e-commerce ecosystem is a kind of its own. Typical simplifications fall short as a foundation for strategic business decisions.
Nonetheless comparable to western marketing, finding and managing influencers to promote a brand to its target customers is one of the corner stones of success — equally in China. The sheer size of the influencer population, however, potentially turns this into an organizational nightmare.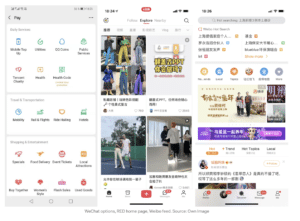 Taken as a whole the social media environment provides substantial opportunities to drive sales on the marketplaces. WeChat Pay and AliPay, the two dominant payment platforms, which are conveniently owned by the two major e-commerce players (Tencent and Alibaba) ensure smooth payments. And even a CRM system, mailing and text messaging application is included on the merchant side of the marketplace platforms to fully integrate the social communication streams.
Ultimately, we find a 360 degree e-commerce solution. But it is a closed shop and only works well for brands using all its parts. Entering the Chinese market happens not on your terms but essentially on those set by Alibaba and Tencent. While this means a little less autonomy, it also means a proven system that works — if you know how to work it.
Be exited to read the second part next week!
List of References:
[1]https://www.statista.com/statistics/277391/number-of-online-buyers-in-china/
[2]https://www.volkswagenag.com/de/news/stories/2018/04/volkswagen-in-china-a-long-lasting-friendship.html
[3]https://www.wheels.ca/top-ten/these-are-ten-biggest-automakers-in-the-world/
[4]https://www.manager-magazin.de/unternehmen/industrie/l-oreal-garnier-china-a-942520.html
[5]https://www.glossy.co/beauty/inside-revlons-china-re-entry-playbook/
[6]https://www.cnbc.com/2019/04/18/amazon-china-marketplace-closing-down-heres-why.html
[7]https://www.bmwi.de/Redaktion/DE/Artikel/Aussenwirtschaft/laendervermerk-china.html
[8]https://chinapower.csis.org/china-middle-class/
[9] Stephan, Dr. Ulrich (2021): "China: Privatkonsum boomt" in: PERSPEKTIVEN am Morgen, Deutsche Bank, 09.02.2021
[10]https://www.azoyagroup.com/blog/view/5-china-e-commerce-categories-to-watch-in-2020/
[11]https://www.azoyagroup.com/blog/view/10-german-brands-that-chinese-consumers-are-crazy-for-and-why/
[12]https://asiatimes.com/2019/09/german-businesses-adapt-to-chinas-changing-market/
[13]https://www.ibisworld.com/china/industry-trends/fastest-growing-industries/
[14]https://de.statista.com/statistik/daten/studie/1030658/umfrage/online-anteil-am-einzelhandelsumsatz-in-china/
[15]https://www.emarketer.com/content/global-ecommerce-2020#page-report
[16]https://www.statista.com/statistics/1024171/china-tmall-gross-merchandise-volume-growth-rate/
[17]https://qz.com/1167024/all-the-things-you-can-and-cant-do-with-your-wechat-account-in-china/