Digital Markets Act could harm European small businesses
Digital Markets Act could harm European small businesses
How the Digital Markets Act could unwittingly hurt European small businesses
A policy analysis informed by the Catalyst Research Digital Markets Act Working Group 

Digital business transformation has been underway for more than a decade. However, it became an urgent matter during the COVID-19 pandemic when many restaurants, retail stores, and offices were forced to shut down or severely reduce operations. Research conducted during the crisis has documented digital tools' positive impact on European small businesses' ability to survive COVID-19, as aggressive digital adoption led to 60% more revenue, 40% improved customer retention and 300% more hiring by small businesses. 
Against this backdrop, as small businesses adopt and benefit from digital technologies(platforms, services, and tools), the European Commission is considering the Digital Markets Act(DMA). The DMA is a legislative proposal intended to promote opportunities for new digital companies and services that presumably would benefit SMEs by delivering creative innovation and price competition. But there is an undercurrent of unacknowledged risk and concern that as the DMA inhibits the growth or reduces the size and scale of digital incumbents that are so valuable to SMEs, there won't be any substitute companies or services that serve SMEs as well. 
To consider the DMA's impact on small businesses, Catalyst Research convened a panel of experts with deep understandings of the European economy, small businesses, technology and innovation, and public policy. We asked a series of critical questions about the DMA's goals, its intended and potentially unintended consequences, and how these could affect small businesses- in particular, digitally-empowered small businesses that survived the pandemic and are looking optimistically (but warily) toward a stronger future. 
The expert panel: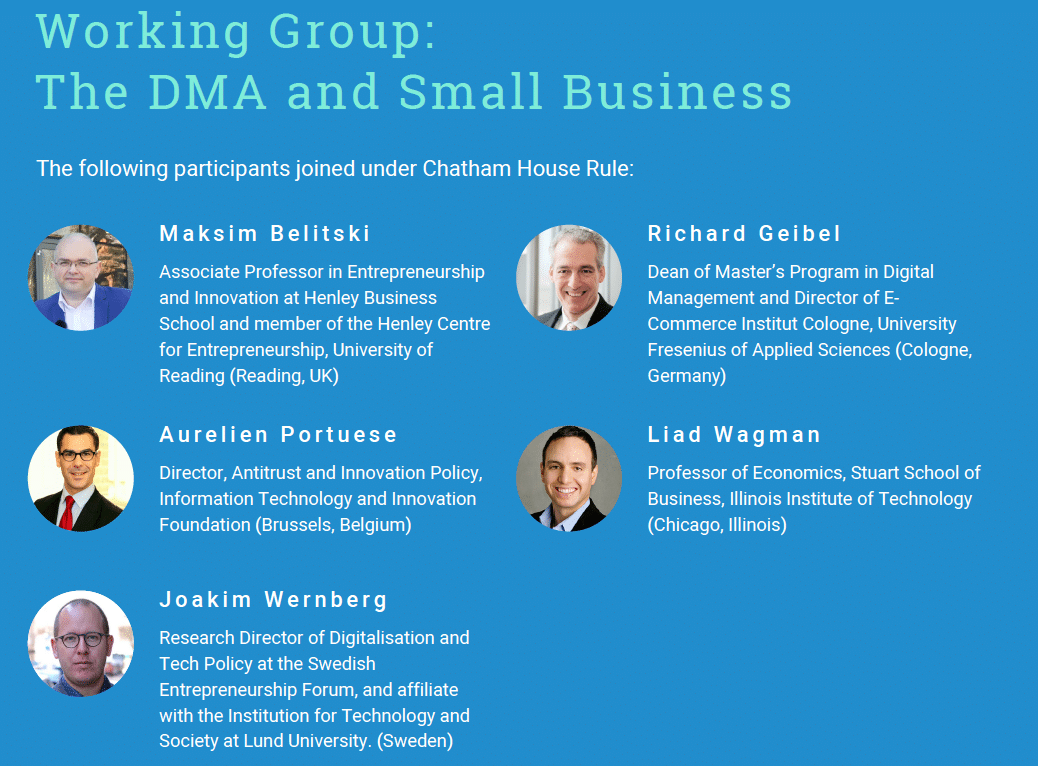 The results:
The results of the research were summarized in a working paper. Read the complete article now at Research Gate! Or klick here for the PDF file DMA-Working-Group-Report-ECI!