Building cleaning service cleverly booked: online configurators possible in the B2B sector (Part 1/2)
Building cleaning service cleverly booked: online configurators possible in the B2B sector (Part 1/2)
Booking trips or ordering food online has long been part of everyday life. But can you hire a cleaning service online? In the private customer environment, there have been a few websites for a few years now that specialize in providing cleaners to private individuals. Among the major facility service providers in the B2B sector, this kind of customer service is still rather uncharted territory: business customers who want to book a cleaning service often still have to pick up the phone and first obtain quotes based on floor plans and service specifications. Using an online platform including a product configurator, as implemented by WISAG Gebäudereinigung with the E-Commerce Institute, this can now be done much faster and without unnecessary hurdles.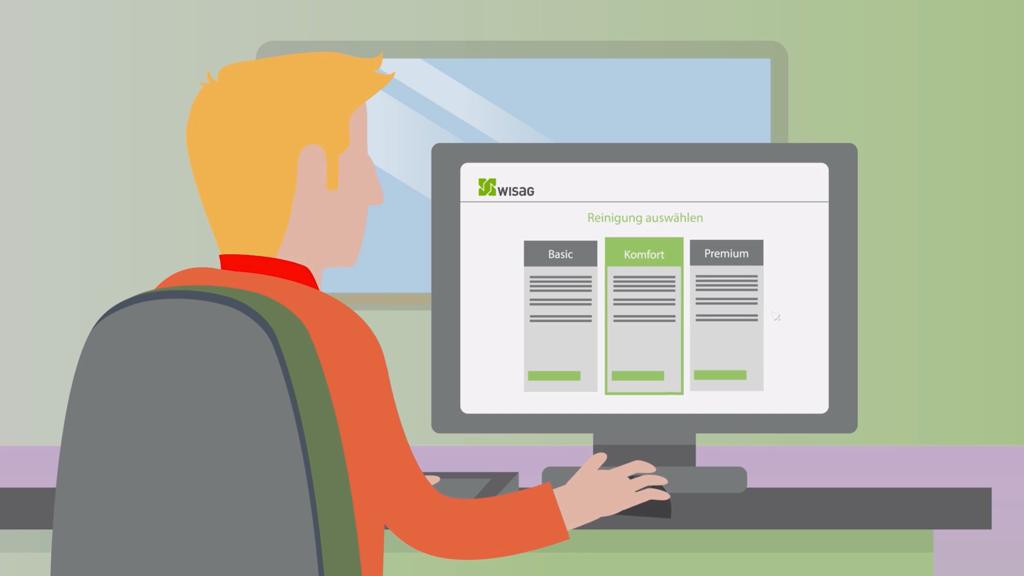 How do platforms for private and business customers differ? What advantages do they offer?
Whether in the business or private sector, booking a cleaning service online should be simple, fast and straightforward. Service providers who offer sustainable cleaning services and provide transparent information about prices and services also score points.
Platforms for private customers
Online platforms for private individuals offer independent cleaners and other household-related services such as professional window cleaning, furniture assembly or painting work on a kind of marketplace. Often, these platforms only handle the placement of the external cleaners or partner companies, which can be booked directly on the website or via app. The websites are usually designed to be user-friendly, and the expected price for the service can be viewed on most platforms without a registration process. Customer reviews help prospective customers decide on a suitable provider.
Platforms for business customers
To score points in the business sector with such an offer, an online platform must provide customers with a detailed and transparent quote for a cleaning service in just a few minutes. Prospective customers will find this well implemented on the WISAG building cleaning platform. Its configurator is particularly suitable for small companies, law firms, agencies, practices or even workshops that often need a service provider at short notice and without complications. The online platform is not aimed at private individuals.
[…]
You can find the WISAG cleaning configurator here: