The future of social commerce: developments and trends
The future of social commerce: developments and trends
As part of her master's degree at the Fresenius University of Applied Sciences in Cologne, alumna Victoria Frings wrote an outstanding master's thesis in the field of digital innovation and development entitled: "Social commerce and its future development in the beauty industry with a focus on TikTok and Instagram as key platforms." The thesis deals with how social commerce and its development will look in practice, using the beauty industry as an example, and what role the key platforms Instagram and TikTok will play in this. In the following, the first vital findings and elaborations of the master thesis are presented. In her master's thesis, the author looks at the changes that digitization has brought to the retail industry and how these changes drive the transformation of online and offline shopping markets. The focus is mainly on social commerce's role in this context.
Social Commerce – a critical analysis of future developments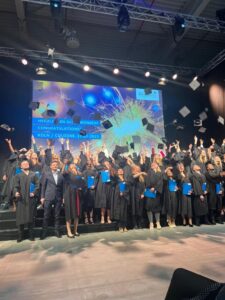 Introducing Social Commerce:
What does shopping look like in the digital future and the constant evolution? The answer to this question is social commerce!
Anyone concerned with digitization and the increasing improvement of e-commerce, in general, will soon come across the topic of social commerce. This topic has been central to discussions among e-commerce players for several years and can be described as a future phenomenon in the industry.
Social commerce can, therefore, no longer be perceived and treated merely as a trend but is far more than a short-lived trend and is already showing the first disruptions of the entire market. However, to take a closer look at the field of social commerce and digital innovation and development in general, the developments and digitization of the shopping industry and the development of social media will be included. Social commerce generally describes the direct and seamless sale of products via social media. This takes place directly on the platform so that the customer does not have to leave the platform for a transaction, and there is also a low risk of losing a customer before a purchase is completed.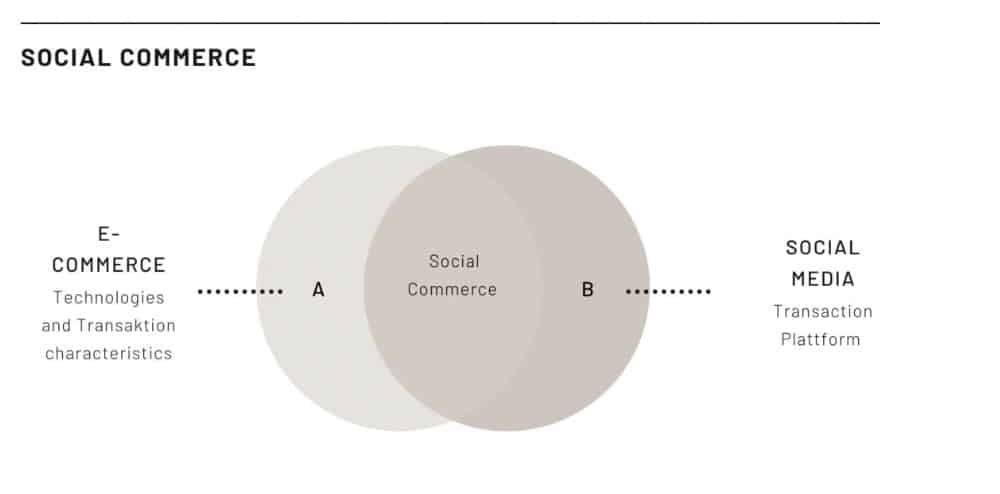 Digitalization of the shopping industry.
The procurement industry in general is undergoing constant change, enabling companies to respond to consumer needs in a coordinated manner and to place the customer at the center of all developments and innovations. This is also influenced by new developments and functions in e-commerce that enable companies to store user-specific data and serve users according to their needs. In addition, these new developments serve to improve processes and seamless sales flows on a platform or company-owned websites. The pandemic has also reinforced and influenced the development and adoption of the ongoing digital transformation in shopping.
Social Media and Social Commerce
Social commerce represents a novel combination of e-commerce and social media in that the functions of e-commerce are transferred to the area of social media. At the same time, functions and features of social media are also transferred to other areas of e-commerce, such as live shopping, and used there.
Since social commerce is described as the merging of the two areas of e-commerce and social media, developments in the area of social media in particular play a major role.
Social media no longer just stands for permanent global networking and communication, but also for reach and potential for companies. The use of social media represents a large part of the everyday life of billions of users and thus also takes up a large part of the free time of many users. Social media can therefore be seen as a meeting point or optimal place where everyone can be reached. They are therefore now an inevitable part of communication between companies and customers. Social media are thus carriers of a high potential for success and development. The fusion of efficient e-commerce functions and social networks opens up a new shopping experience for consumers. Social commerce differs significantly from traditional e-commerce in that it enables shopping directly via social media and integrates it firmly into consumers' everyday lives.
It remains to be seen how these developments will actually play out in the coming years. One thing is certain, however: social commerce has the potential to fundamentally change commerce and create a new shopping experience. To continue to learn new insights and developments in the field of e-commerce and specifically in the development of social commerce and its implementation on the German market, look forward to Part 2!