Semester Abroad at Times Square
Semester Abroad at Times Square
Fresenius University of Applied Sciences opens study center in New York with 70 German students
When Malte Huster (22) leaves for his lecture in the morning, he starts in one of the largest melting pots in the world. With the skyscrapers of New York's financial district behind him, he walks along the vegetable shops and cookshops of Chinatown until he reaches Little Italy. Even before the first seminar, he listens to Cantonese music, sees mahjong players who are hurtling their stones across the board. On Grand Street, Huster climbs the subway, where at morning rush hour you stand crowded like a sardine tin. Then it's off to Midtown, to 41st Street, very close to the Empire State Building and Grand Central Station. Rockefeller Center is not far away and neither is Times Square.
"New York is just amazing, I'm completely overwhelmed," says Huster.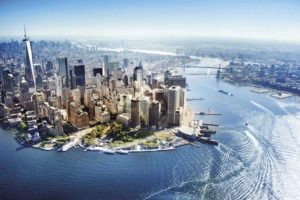 Welcome to the city of superlatives. The city where 8.5 million people speak 800 different languages. The city on whose stock exchange up to seven billion securities are traded. The city with 500 galleries, 18,000 restaurants and 50 million tourists. Besides, the metropolis is also one of the largest knowledge centers in the world. Hundreds of thousands of students study at more than 100 colleges and universities. One of them is now the Fresenius University of Applied Sciences, which since last Tuesday has had its own branch in the Big Apple with 70 students, including Malte Huster. The new branch was officially opened by Honorary President Ludwig Fresenius, President Botho von Portatius and the head of Berkeley College, Michael Smith.
The goal is to sharpen the international perspective of the students: "We want to link them with other cultures," says Fresenius. "When you've been in New York for three months, nothing scares you more."
Fresenius University of Applied Sciences has been planning to expand into the USA for years.
"New York was high on our agenda," says Vice President Marcus Pradel. Initially, however, the university, which has its headquarters in Idstein, Hesse, and runs a branch in Cologne, had problems finding a New York partner. "The Americans had a hard time with the German university of applied sciences system," says Pradel. But giving up was out of the question: "We said to ourselves: We'll just do it ourselves."
The first semesters abroad were spent in rented seminar rooms with American professors.
The persistence paid off: With Berkeley College and Pace University, the university was able to gain two renowned partners. In the past few years, about 200 Fresenius students a year have already been studying at Berkeley. Now that the German university has set up its own study center on the 15th floor of Berkeley College, its students can take courses in New York in four study programs – HR Psychology, Marketing Management, Controlling and Tourism – which can be credited towards their studies in Germany. In addition, summer schools of the Fresenius University of Applied Sciences and its partners, such as the Leipzig Graduate School of Management, will be held at the new location. In the long term, the study center will also be opened to American students, Pradel said.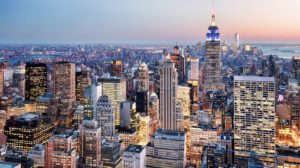 Malte Huster from Cologne does not only want to collect study points, but also wants to improve his language skills and spice up his CV.
"With New York on your CV you have much better chances on the job market", says the student, who is learning International Business Administration and wants to work in a large company one day.
In the US metropolis, Huster wants to pick up new ideas that can be imported to Germany to start up a start-up. There are plenty of impressions: People are open, says Huster.
"I went on the basketball court and I got to play in the game."
On the other hand, he was amazed at how many poor people there were in the city.
The semester will not be cheap, because apart from the tuition fees for the private university Fresenius, he has to pay $4,000 for the semester abroad. And then there are the costs for food and rent in one of the most expensive cities in the world. For a 22 square meter room in Chinatown alone, which he shares with another German student, he pays 3075 dollars and doesn't even have a real bed. "I sleep on the couch."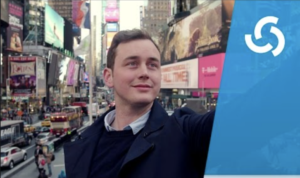 Maltes New York Adventure on YouTube: https://www.youtube.com/watch?v=5uqp8nZjYUI
More information about the semester abroad of HS Fresenius in New York:
https://international.hs-fresenius.de/auslandssemester-in-new-york/
Article: Kölner Stadtanzeiger 12. April, 2016, Dirk Riße