From shopping center to lifestyle hub
From shopping center to lifestyle hub
The transformation of stationary retail
What is the impact of current e-commerce trends on stationary retail? And what changes do they bring with them? To what extent must shopping centers change?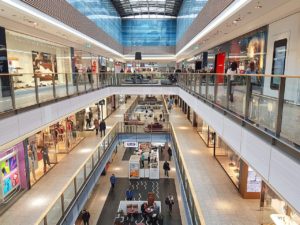 It's no secret that online retail is growing rapidly. If you compare the years 2013 and 2019, sales have almost doubled. Whereas in 2013 sales were still around 32 billion euros, in 2019 they were already 59.2 billion. And that's in Germany alone. (Source: Statista)
However, even if developments in online retailing represent serious competition for brick-and-mortar retailing, it is not yet lost. Progressive digitization is presenting stationary retail with new challenges. One thing is clear: it has to change.
The transformation of stationary retail
Stationary areas are losing importance. Traditional retailing as a pure source of supply is outdated. Stationary retailers are becoming experience platforms with spaces, and the diversification of these spaces must move forward. But shopping centers in particular, which bring together diverse retail stores and service providers from different sectors in one place, are also affected by this change. At this point, seven trends can be highlighted in particular, which must be observed on the part of the shopping centers:
New space requirements and utilization concepts
New Mobility
Integration between online & offline
New rental models
Last mile logistics as an opportunity
GreenTech & Sustainability
Data analysis for location marketing
1. New space requirements and utilization concepts
The requirements and wishes of customers are changing rapidly. As a result, flexible and variable space layouts and utilization concepts are required to ensure rapid adaptation and response to trends. Retail space must be designed and conceived in such a way that it can be used flexibly and remain attractive throughout the entire life cycle of a shopping center. Customers no longer want just a center for retail. They are looking for other forms of use where the platform for people is in the foreground. Gastronomy and entertainment offerings such as cinemas were yesterday. Today's trend: event spaces, pop-up stores, gyms, wellness offerings, medical practices, specialty grocers, residential or office space.
2. New Mobility
Today, new, sustainable mobility concepts are in demand. These should not only be efficient and environmentally friendly or resource-saving, but also increase people's quality of life. Especially in densely populated areas, in the urban space, more and more new mobility developments are being applied. These concepts must also be considered and integrated in shopping centers. Of particular interest to customers are charging stations for e-cars, car-sharing, bike-sharing or cargo-bike-sharing models, e-scooters, and online ride brokers (e.g., Uber).
3. Integration between online & offline
While stationary "offline" retailing is unquestionably threatened by online retailing, these are not to be seen as running in parallel with an "either/or" decision, but can be brought together in a conceptually sensible way. A rethinking of the business structure is required. Because: a combination of online stores and retail stores can definitely bring potential with it and can profitably complement the two sales channels with each other. Stores should be transformed into showrooms and offer customers an experience through the possibility to touch or smell the products directly in order to strengthen the brand experience. Design and layout, but also product selection in the store, can all contribute to the attractiveness of the store and, as a result, of the company and the brand. Concepts such as Click & Collect, buying a product online and picking it up on site in a brick-and-mortar retail store, are just one way in which online and offline can interact with each other.
4. New rental models
Conversely, the change from sales areas to exhibition areas and showrooms also means that sales in stationary retail can no longer be calculated down to sales per m². A store or presence in a shopping center also generates a lot of revenue online, but this cannot be measured. The traditional rental model of €/m² is no longer up to date. Digitalization is therefore giving rise to new rental models: temporary, permanent, or with flexible space sizes. New event formats also ensure that additional sources of income are created for an operator through more flexible rents.
5. Last mile logistics as an opportunity
Digitalization also places demands on logistics, especially against the backdrop of the "last mile problem". This "last mile problem" represents one of the major challenges within the supply chain for suppliers and service providers. Last mile means transport to the customer's front door, i.e. the last mile until the customer holds his goods in his hands. The core of the last mile problem lies in the increased customer demands and the changed consumer behavior in the times of e-commerce and mobile shopping. Customers are increasingly ordering products directly to their door. This presents delivery companies with enormous challenges in terms of economic route planning and parcel delivery. For shopping centers, this presents an opportunity. They can serve as fulfillment centers or hubs thanks to their central locations, structures or available space. And thus provide an answer to the "last mile problem". The integration of distribution and pickup centers, as well as parcel stations in shopping centers can make a contribution to the complex issue of the "last mile" in city logistics. Drone landing pads on rooftops or cargo bike courier services do not remain just a vision.
6. GreenTech & Sustainability
The megatrend of sustainability has become a global issue within the last few years. The desire for more ecology, healthy choices and intelligent use of resources is reflected in many areas of human life. The fact that shopping centers play such a central role for various user groups and are at the same time in the focus of the public anyway – and often also of criticism – means that the demands on shopping centers are particularly high. While retailers and restaurants should no longer be able to do without bamboo straws, paper cups and plastic bags, operators also have an obligation to become more sustainable. Even during the planning, design and construction (or conversion) of a shopping center, strong attention should be paid to the issue of sustainability.
7. Data analysis for location marketing
In addition to collecting building data, data should also have long been used by retailers to enhance a customer's shopping experience. Whether in the form of location-based services through apps, or by analyzing customers' online shopping behavior or area shopping patterns. This generated data can be incredibly valuable to retailers. This includes socioeconomic and psychographic data, as well as transactional data. Data analysis can then be used to deliver targeted or even personally played out product recommendations to customers. Offers and promotions in retail spaces, but also short-term space rental offers can be strategically planned, placed and evaluated in a more targeted manner. Improved customer experience leads to higher customer loyalty and thus to an increase in the value of the property and advantages for tenants, managers and owners of the shopping centers.