5 books that (aspiring) online retailers should know
5 books that (aspiring) online retailers should know
Both E-commerce novices and experts in online retail looking to expand their knowledge and engage in continuous learning will benefit from perusing these books. In an ever-evolving industry, these recommendations can at least provide a solid, timeless foundational knowledge.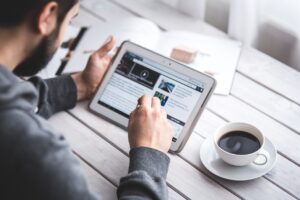 Handbook Online-Shop: Strategies, Sudes Recipes, and Solutions for Effective E-Commerce
Alexander Steireif, Rouven Alexander Rieker, Markus Bückle
The first of our list of books provides beginners with a comprehensive overview of all relevant E-commerce topics without requiring them to delve into depth. For experienced professionals, it serves as a comprehensive reference guide with answers to practically every question in the E-commerce field, spanning over 800 pages. This standard work from Rheinwerk-Verlag is highly valuable for its numerous tables and checklists, making it suitable for regular reference or internal training. It should be a staple in every E-commerce library and can also be considered an excellent starting point for further online research.
Amazon Marketplace: The Handbook for Manufacturers and Retailers 
Trutz Fries and Stephan Bruns
This is an indispensable standard work of books for beginners in the marketplace trade on Amazon. Fries and Bruns guide retailers and vendors from the fundamental steps of account registration to the essential process automation in online commerce and the establishment of a brand on marketplaces.
Amazon Marketing: The Practical Guide for More Success on Amazon 
Christian Otto Kelm
This book is a comprehensive guide to practical Amazon marketing and an indispensable tool for all online retailers. It should be placed on the desk or e-book reader of anyone in this field. With the help of this guide, retailers can develop an effective Amazon marketing strategy, covering all aspects from fundamentals to content, optimization, strategies, and tips and tricks.
Topics covered include basics, content, optimization, strategies, tips, and tricks
Enhancing the discoverability and visibility of your products
Amazon SEO, SEM, coupons and discounts, flash deals
E-Commerce with Amazon. The Practical Guide for Brand Manufacturers, Vendors, and Sellers
Marc Aufzug and Dominik Bors
Among the standard works of books, this is another one bridging the gap between beginner topics, such as distinguishing between Seller Central and Vendor Central, while also providing concrete support for creating Amazon content. It includes numerous best practice examples and practical tips, making it extremely valuable for both newcomers and brand owners. Additionally, it covers important topics like account handling and provides clear guidelines for interacting with the platform operator, Amazon. The authors have extensive experience as consultants and e-commerce experts, having worked with clients on these exact topics for years.
The E-Commerce Book: Market Analysis – Business Models – Strategies
Alexander Graf and Holger Schneider
This e-commerce book is a strategic guide that assists entrepreneurs in adapting or developing their own e-commerce business model. Numerous case studies illustrate the process of business model development using various e-commerce companies as examples. This book is essential reading for those who seek not only practical guidance but also in-depth background knowledge. However, a new edition would be advisable to keep pace with the ever-changing trends and developments in e-commerce.
For more recommendations and additional information about each book, you can find them here.