Research Plus on the topic of e-commerce
Research Plus on the topic of e-commerce
E-Commerce Institute visits Research Plus
Prof. Dr. Richard Geibel and Robin Kracht from the E-Commerce Institute will talk about "Progressive Web Apps" on Wednesday, June 9 at 18:30. In this article you will already learn exciting info! Join here for free!
E-commerce is booming – and has been for a long time, but never before so fiercely. Reason enough to bundle three keynote presentations into one evening event: Next Wednesday, the next Research Plus will therefore focus on the electronic shopping cart.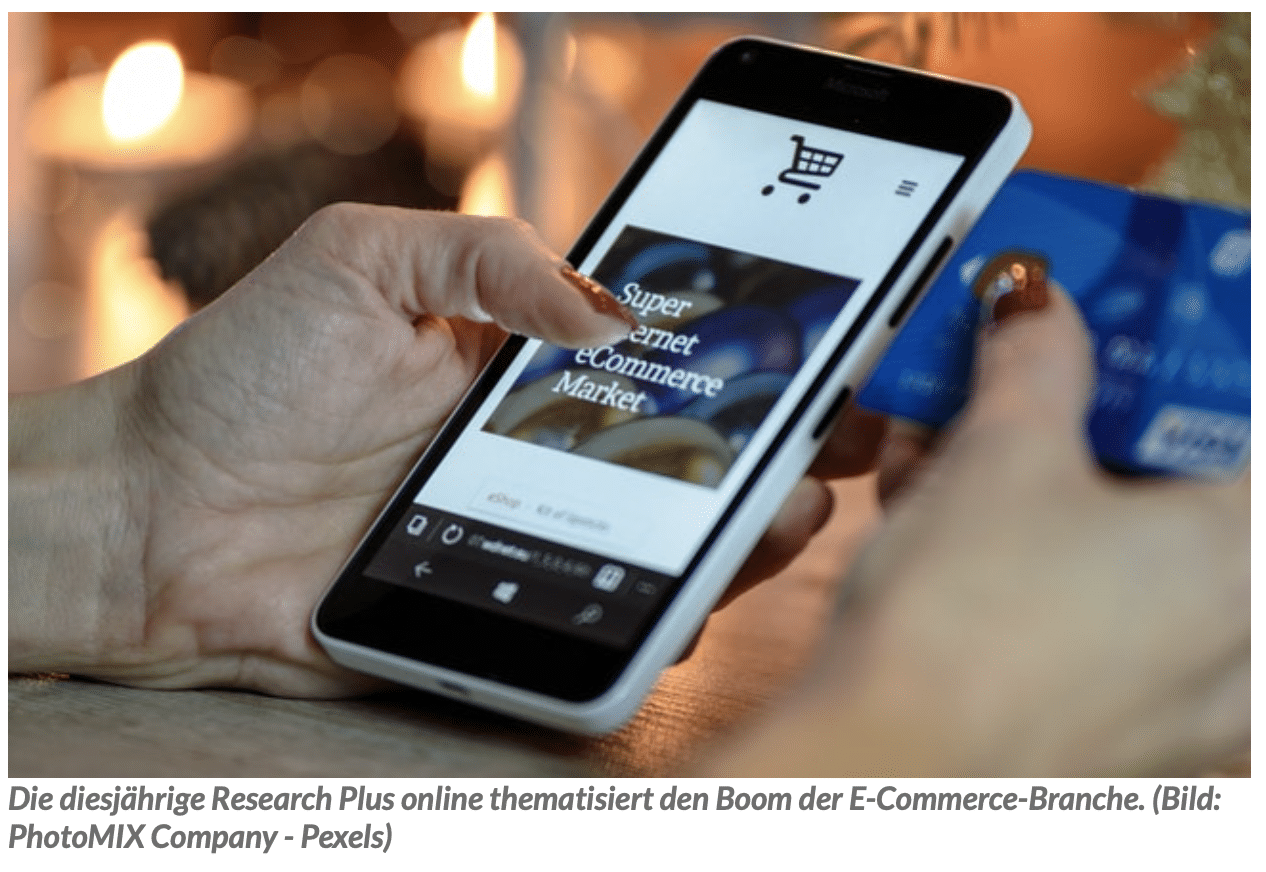 E-commerce is closely linked to technological progress. Ever since consumers and their behavior have been measured as if they wanted to buy a new tailor-made suit, and ever since parcels have been delivered faster than it takes to decide on a product, yes, at the latest since then, it has flourished tremendously.
That's why the next Research Plus on June 9 from 6:30 to 7:30 p.m. will be all about e-commerce. Join here for free and listen to short presentations by
Prof. Dr. Richard Geibel and Robin Kracht (E-Commerce Institute, Fresenius University of Applied Sciences Cologne)
Lisa Neumann (eye square)
Prof. Dr. Michael Fretschner (smart impact, Nordakademie)
Herr Geibel, Herr Kracht, you're going to talk about Progressive Web Apps. What are we talking about here?
Prof. Dr. Richard Geibel and Robin Kracht: In our presentation, we will outline the features, benefits, advantages and disadvantages compared to traditional apps. Finally, we will present examples of successful implementations at companies and an outlook for the future. A Progressive Web App (PWA) is a new app format for which Google in particular sees itself as responsible. The PWA is loaded directly from the Internet and not from an app store onto the end device. This means that it is available independently of the app store. The PWA is detached from a device-specific operating system and accessible via a URL, since it is executed via a web browser.The new technology makes it possible to combine the positive characteristics of native apps (from the App Store) and web apps (mobile-optimized websites) and thus represents a very powerful alternative.
And what makes this technology so interesting for the e-commerce sector?
Prof. Dr. Richard Geibel and Robin Kracht: Especially companies with a focus on e-commerce can benefit greatly from PWAs. This is because a significantly better SEO ranking of the website is made possible, which is due to the high speed and low memory requirements of the PWA. In addition, PWAs are generally strongly rewarded and better rated by Google. It has been proven that site visitors spend more time on PWAs than on normal websites, which is also due to the offline functionality. Furthermore, PWAs have lower bounce rates because the pages load immediately – this is also reflected in the revenue of the pages. Push notifications are a popular means of contact. These can also be used with PWAs and thus increase the number of returning customers.In addition, the increased visibility of the application must also be mentioned. This is because by simply downloading it, the application icon can be seen directly on the cell phone or desktop and thus appears more often to the end user.
Ms. Neumann, your presentation is entitled "Ad-to-Store Effect". What kind of effect is that?
Lisa Neumann: Ad-to-Store is an approach that relates user responses to ad contacts to their behavior in the online store, in this case Amazon. We map a user journey from the advertising contact to the shopping cart and measure real behavioral data such as visibility, playback time, but also how long the product and product detail page are viewed and whether the product is added to the shopping cart. This method allows us to realistically recreate a purchase decision and the associated shopping funnel and to map the effect of advertising contacts on the individual stages of the purchase process. In the short presentation, you will learn which effect patterns we were able to find in the behavioral data in the online store as well as in pure questionnaire data.
On which aspect will you focus on June 9?
Lisa Neumann: We will show how our ad-to-store tool works and present our basic study on it, contrasting behavioral data with classic survey data. In addition, we bring an exciting brand case that shows how important channel-specific optimizations are in advertising concepts.
Herr Fretschner, at the end of the day, isn't it always about conversion?
Prof. Dr. Michael Fretschner: Almost. After all, the customer journey continues after the conversion. The converted users receive and use the purchased product/service. According to the confirmation/disconfirmation paradigm, the extent to which the expectations of the product match the actual experience is checked. This may reveal that a product exactly fulfills the experience attached to it, which leads to satisfaction and later possibly also to loyalty and repeat purchases. If expectations are exceeded, this also leads to satisfaction, possibly even to enthusiasm and positive multiplier effects such as organic reach through shares and recommendations. Of course, the so-called "negative disconfirmation" should be avoided at all costs, i.e. if the expectations of the product cannot be fulfilled. This can lead not only to dissatisfaction, but also to negative word-of-mouth. Conversion per se is therefore also only a stage goal. At the end of the day, it's always about customer satisfaction, loyalty and retention.
You look at Amazon and Alibaba in your presentation. Broadly speaking: What can we look forward to?
Prof. Dr. Michael Fretschner:
I'll say it "humbly." Here's to the future of e-commerce. First, we take a critical look at Amazon's longtailing concept, which for a long time ensured an ever better customer experience and thus more and more growth by offering more and more product choices – but this no longer works quite as well as it used to.
That's why we take a look at Amazon's new retail ideas such as voice commerce, but also and especially at Alibaba in China, where the "New Retail" including sophisticated omni-channel concepts, closed-loop customer journeys and mobile-only is already a reality. Finally, we will briefly summarize which new consumer data will be tapped by the new retail concepts and which opportunities and risks this will entail for market research.
About the people
Prof. Dr. Richard Geibel holds a professorship for corporate management at the Fresenius University of Applied Sciences in Cologne. He is responsible for the master's program in Digital Management. His research focuses on e-commerce and digital transformation.
Robin Kracht is a lecturer at HS Fresenius for e-commerce and social media management. With the E-Commerce Institute, he advises companies on the digitization and implementation of scientific structures and concepts. Structures and concepts. At the E-Commerce Institute you will find more information about the topic PWA.
Lisa Neumann works as a Research Consultant in the Brand & Media Experience Unit at eye square. Her focus is on quantitative marketing research using online methods. She is an expert on the topics of keyword marketing, search engine optimization and content marketing.
Prof. Dr. Michael Fretschner is the founder and Managing Director of the management consultancy smart impact GmbH and holds the professorship for Marketing & E-Commerce at the NORDAKADEMIE University of Applied Sciences. Previously, he was Vice President Northern Europe at Unruly Media, where he headed the Insight & Solutions Department in Germany, Scandinavia and the Netherlands. He is particularly interested in the use of machine learning methods to solve complex challenges in digital marketing and market research.
For the original article, click here.