Key facts on selected delivery services (2021)
Key facts on selected delivery services (2021)
The EHI Retail Institute is a research and consulting institute for the retail industry and a partner of the E-Commerce Institute Cologne. EHI's new article gives an interesting overview of online delivery services. Click here for more info!
Key Facts Online Delivery Services (as of 2021)
Contactless delivery of personal grocery shopping to the doorstep: since the start of the Corona pandemic, delivery services have been spreading at record speed on the German market, with no end in sight to the rapid expansion of this fiercely contested competition. Our infographic shows an overview of selected delivery services.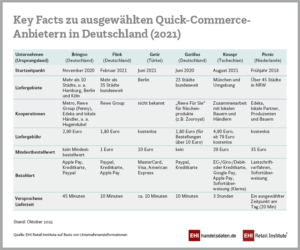 Source: EHI Retail Institute
Same-day delivery between 10 minutes and 3 hours: quick commerce providers in Germany promise smart, convenient and, above all, fast delivery of products. The Corona crisis and growing digitization have continued to drive the trend toward ordering groceries and everyday items over the past year. More and more delivery services are entering the German market as a result.
The business concept of the German providers Flink and Gorillas, both founded in 2020, can be traced back to local delivery concepts from Turkey, where the provider Getir has already been offering nationwide delivery of groceries in around 10 minutes since 2015. Flink and Gorillas offer German consumers between 1,000 and 2,000 products for everyday use for purchase on weekdays until 11 p.m. in the evening.
The product range can be accessed via a smartphone app and is sorted by category. The vendors focus on selling food, offering fresh baked goods, fruit and vegetables, and a broad portfolio of dairy products, among other things. For the most part, prices are comparable to classic supermarket prices. Delivery charges are currently around 1.80 euros, and there is no minimum order value. However, Gorillas is currently planning to increase the fees for orders under 10 euros to 2.10 euros.
Gorillas is represented in over 20 cities nationwide, Flink in more than 35. Products are mostly delivered via e-bikes, which are made available to the delivery service drivers.
Cooperations with retailers
Quick commerce delivery services are not limited to food delivery. Many of the delivery service providers bring products to customers in cooperation with grocers, restaurants and also nonfood retailers. Bringoo, active on the German market since November 2020, works with Metro, Rewe Group and also local retailers such as Hugendubel, offering delivery within 45 minutes for a fee of 2.90 euros. Prerequisite: the delivery must not exceed the maximum weight of 20 kilograms.
Knuspr, which was launched in August 2021 in Munich and the surrounding area, relies on cooperation with local farmers and retailers, among others, and offers a full range of currently around 9,000 items, which the company says will grow to up to 16,000 products in the future.
Competitive market
The market is currently in a state of flux, with gastro-delivery services such as Foodpanda and Lieferando also announcing their intention to enter the delivery of food and other everyday items. Competition is also pouring into the highly competitive market from abroad. For example, the American provider Gopuff is pursuing an ambitious expansion strategy on the European market with funding of more than USD 3.4 billion, joining a pool of various foreign delivery services that are looking forward to entering the German market in the near future. The Russian fast delivery service Wuplo launched in Berlin at the beginning of September.
Wolt, which originates from Finland, currently primarily offers food deliveries in Germany, but in the future sees itself more as a mobile shopping center with an "app for everything" and has integrated flowers, wine or chocolates into the platform in addition to the classic delivery of meals. To this end, the company is working with local retailers, who are given the opportunity via the Wolt platform to market their goods online in addition to the specialty store, without having to have their own online store. Wolt then delivers the order within 35 minutes.
Competition in this young market is high, and margins for food are significantly lower than for prepared meals, according to retail experts. Nevertheless, quick commerce delivery services in Germany are attracting financially strong investments. For example, the Dax company Delivery Hero recently acquired a stake in Gorillas, and the U.S.-based delivery service Doordash acquired a stake in Flink.